Many people, including myself, are worried about inflation. Is it just because of the current housing and stock market conditions, or are our bills really a lot higher than before? The inflation numbers that we usually hear about are based on the Consumer Price Index (CPI). Variations of the CPI are published monthly by the government's Bureau of Labor Statistics, and they supposedly track the prices consumer pay for a basket of goods and services. For example, a greatly simplified basket may include a month's rent, 10 pounds of steak, a tank of gas, and a laptop. As the price of this basket goes up, that's inflation.
Why Does CPI Matter?
Payouts on inflation-protected investments like TIPS and Series I bonds are indexed directly to the CPI.
Social security payments, pensions, and inflation-indexed annuities all rely on CPI data to determine their annual adjustments.
The size of individual income tax brackets, personal exemptions, and the standard deduction are tied to movements in the CPI.
Low inflation numbers (especially when they are much less than GDP growth) make the economy seem healthy.
However, there is some controversy over whether the CPI is an accurate measure of inflation. As you can see above, there are many reasons why the government and large pension groups would like to see a lower inflation number. Lower inflation numbers mean lower payouts, a smaller budget deficit, and a happy stock market.
In 1995, the Boskin Commission study suggested that the CPI overestimated inflation by around 1.1% every year, and in 1996 changes were made to counteract these alleged errors. But critics say these changes were completely unnecessary, and now the CPI underestimates inflation by around 1.1% per year. Here are some of the arguments:
Substitution Adjustments
It was suggested that if steak becomes too expensive and people buy hamburger instead, then the CPI should just start using hamburger prices instead. After all, that is what people are buying right? Not only does this reduce inflation, critics wonder where this is headed. Hamburger gets too expensive, so then we eat hot dogs. Hot dogs turn into… dog food?
In addition, let's say we go from using steak to hamburger due to price, and then back to steak again once it gets cheaper. Roundtrip, this substitution system would say that there was zero or even negative inflation during this time. But obviously prices actually rose. Just doesn't sound right.
Quality, or Hedonic, Adjustments
A second major factor is that the CPI tries to adjust for increases in quality as well as increases in price. If a car costs 10% more, but it is 10% higher in quality, then there was no inflation. Okay, I can see this in certain examples. But critics point out that many times the consumer has no choice but to pay the higher price, so why aren't we taking this into account?!
Example: If the government mandates an additive to your gasoline that costs an extra 20 cents per gallon, there is no affect on the CPI because this 20 cents was an improvement in "quality". But we still get stuck with higher bills!
I wonder… if we follow all these quality adjustment ideas, isn't shifting from steak to hamburger losing quality and shouldn't that be adjusted for as well?
What If We Remove These Adjustments?
Here are two estimates of what the CPI number would look like without these adjustments. From Shadows Stats2 (Clinton era means 1996, when the changes were made):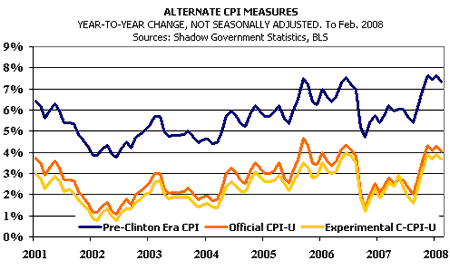 From Bill Gross and PIMCO3: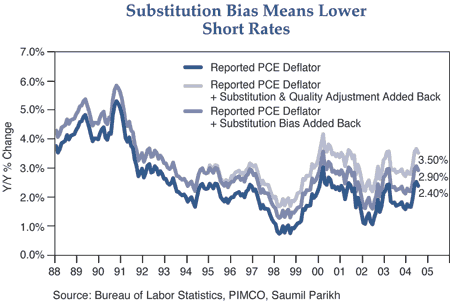 Personally, I think the government has a vested interest in getting the inflation numbers at least somewhat correct (considering the scrutiny they are under), but at the same time they want to err on the low side rather than the high side. Some of the methods they use definitely seem to support this goal, and I wouldn't be shocked if the CPI-based inflation numbers lagged what consumers actually experience by up to 1% per year at times. This may be something to consider when buying anything indexed to the CPI.
Sources and More Information
The great inflation cover-up by Elizabeht Speirs, for Fortune Magazine.
Consumer Price Index by ShadowStats / John Williams – Slightly more aggressive and controversial.
Haute Con Job by Bill Gross – He runs PIMCO and the largest bond mutual fund in the world, so not quite a kook. Also see Con Job Redux.
US CPI Inflation Statistics Manipulation and Deception? by Ronald Cooke.