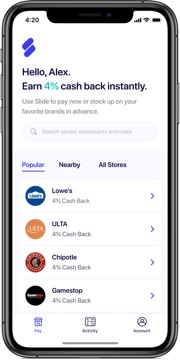 Instacart update: Slide now includes 4% back at Instacart (5% cash back if you pre-fund). My Instacart tip is to stay logged into the app on your phone and wait for them to send you periodic promotions. At least once a month, I will either get offered $20 off $100, $10 off $50, or a free delivery fee. Stacking this Slide discount and credit card rewards, it basically allows me to at least break even with tip. My goal is to pay either the same or a little less than if I bought it in-person, while also saving time as I avoid shopping with my kids during COVID. (New users can get $10 off their first order with my Instacart referral link.)
New $20 Slide referral promo: Open a new account via Slide referral link and get $5 credit towards your each of your first four purchases (up to $20 bonus total). Each purchase only needs to be at least $10 (minimums vary by retailer), so you can get $40 of gift cards (4 times $10) for $20. Thanks if you use it!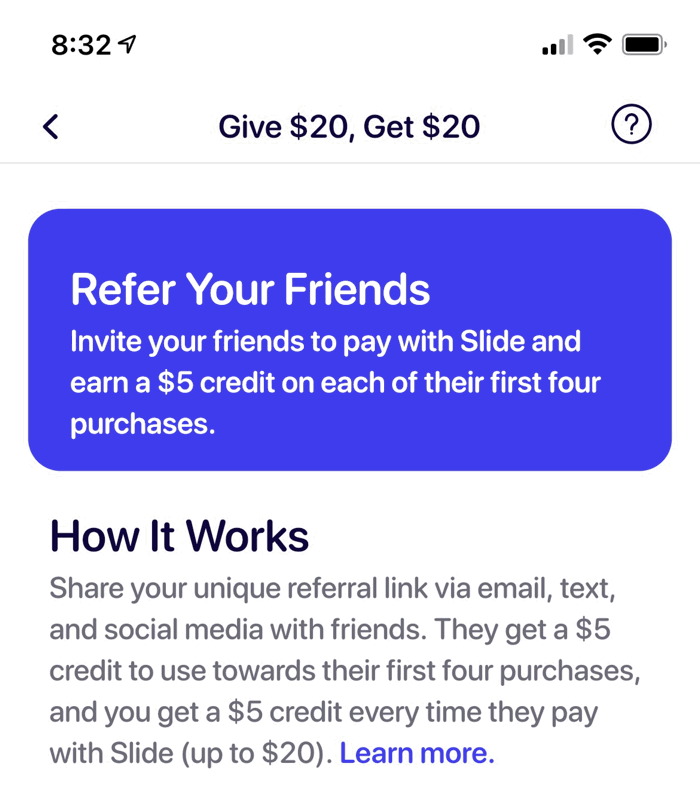 Updated full review:
Slide is a new iOS and Android app that sells you discounted, new gift cards in exact amounts that are delivered digitally instantly. Basically, it is designed to allow you to wait until the moment before purchase when you already have the final purchase price (in-person or online), and then go buy a discounted gift card via the app down to the penny (usually a $25 minimum). The main problem with gift cards is waste when you don't use it all. This avoids the waste. You can get 4% cash back at all of these retailers (not the full list):
Instacart
eBay
Grubhub
Uber and Uber Eats
DoorDash
Dunkin Donuts
Domino's
Lowe's
Panera
Burger King
Taco Bell
Chipotle
Southwest Airlines
GameStop
Google Play
Petco
Bass Pro Shops
Ulta Beauty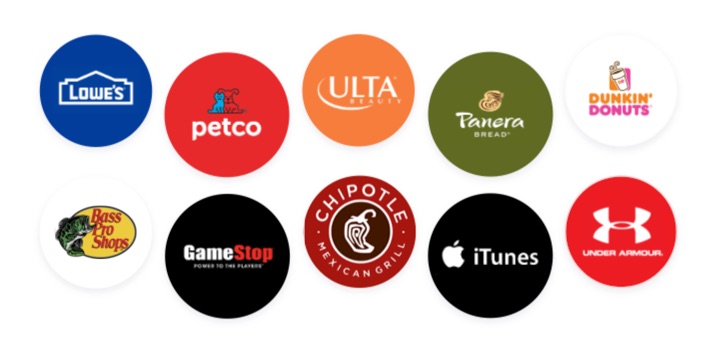 You get 4% cash back from the gift card purchase, but you also get 1% cash back when you pre-load your Slide balance with a credit card. You must pre-load in set increments, but you can but the gift cards down to the penny. In this way, you can actually get 5% cash back total. The app is from company behind the gift card marketplace Raise.com, so I trust it to be reputable, and these are not secondhand gift cards.
You still earn your normal credit card rewards as well (ex. 2% total cash back with Citi Double Cash), although I don't think Slide will count as any special category. For physical stores, the app will provide a barcode for easy scanning. You can cash out at $15 via PayPal or Venmo, or apply smaller balances towards your next gift card purchase. I have already successfully cashed out my Slide balance via Venmo with no issues.
Grubhub test run. My first use was with my a Grubhub order. First, you'll want to download the Slide app. As of right now, Slide gives you 4% cash back on Grubhub gift cards of at least $25+. You can get an additional 1% by pre-loading your Slide balance ($25 minimum) via credit card using any amount down to the penny (total 5%).
Then, I did my Grubhub order and got to the final page with the total including tip. Grubhub gift cards can cover tips. If the total is under $25, then you would still need to buy a $25 gift card from Slide and then use the remaining balance later. If the total is, say, $33.44, then you can buy a gift card for exactly $33.44. It works with Apple Pay and Google Pay, so I didn't have to spend any time entering credit card numbers. I was able to copy/past the gift card code back into the Grubhub app and use it immediately without issue.
I mostly use the food delivery apps only when they have a good promo to offset all those fees, and here I was able to also stack a "free sandwich" promo and Grubhub+ free delivery on top of all these other discounts.
More discounts for even more complexity!? You can also stack with cashback shopping portals. TopCashBack and DollarDig offer cashback on Slide app purchases. Rakuten, TopCashBack, and other portals offer cashback on Grubhub, Uber Eats, and other food delivery apps.
Let's say you bought exactly $25 of Grubhub food. Right now you could theoretically get 3% back on your Slide purchase from TopCashback ($0.75), 5% cash back from Slide itself on the Grubhub gift card ($1.25), and another 2% from TopCashBack for your Grubhub purchase ($0.50). That's a total of 10% off for making some strategic clicks. You also get your points/miles/cashback from paying Slide with your credit card.
Slide may also be good for some larger purchases, for example at Lowe's or Southwest Airlines, but remember that using a credit card can sometimes include other benefits like an extended warranty or travel insurance. I recently used it on a larger eBay purchase (refurbished Dyson vacuum direct from Dyson) and earned the cash back with no issues.
Disclosure: This post includes affiliate and referral links, where I am compensated if you click through and make a purchase. Thanks if you use them!