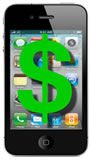 WaPo has a story about a college student who makes $50,000 a year from jailbreaking iPhones for strangers. By opening up the operation system to tweaks, "jailbreaking" allows iPhone users to do some cool stuff like share 3G connections, switch to T-Mobile, and install non-Apple-approved apps. I can see how non-techy iPhone owners would happily pay money to enhance their iPhone, given that they are already paying $70-$100+ a month for service.
The article doesn't provide proof or details, but with some simple reverse math, here's how it might work. $50k a year is about $1,000 a week. If he says he can do 40 unlocks a week, that means he had to charge $25 a pop. Not bad for a cash business with zero overhead besides having an iPhone. Now, there are some risks of data loss, but I'm pretty sure that with some careful reading any college student could figure it out. There are plenty of sites that will guide you through it. In case you're wondering, in July 2010 the courts ruled that jailbreaking was legal.
This reminds me of when I was in college, I supported my gadget desire by taking advantage of the dot-com boom and the emergence of eBay. A new start-up would offer up stuff with a "we-lose-money-but-make-it-up-in-volume" discount, and I would sell them on eBay for a profit. For example, a Palm Pilot (remember those?) might be on sale for $100, and I could sell it for $150. If I bought three, that meant I could sell two and keep one for free. If I was more motivated by actual money then (I wasn't) I should have bought 10 or 20, and made some real money.
The main problem with this plan? Supply and demand. Just one day after this article hit, a guy is offering to jailbreak your phone for just five bucks in San Jose. I guess that's where you'll have to start using stuff like marketing and finding a good location to stand out. Hello real-world experience!