Unless you've been under a rock for the last few years, you've gotten 124 PayPal phishing e-mails telling you that your account has been suspended, yada yada, gimme your login and password. New variations come out every day. I bet that more people are being fooled than we know of, mostly due to the shame of admitting it.
I was just reminded me of one way to fight this problem by keeping a "firewall" checking or savings account. Basically, if you do a lot of online transactions with payment processors like PayPal or Neteller, or are simply paranoid about identity theft in general, you can set up an separate, empty bank account to act as a buffer. Let me illustrate: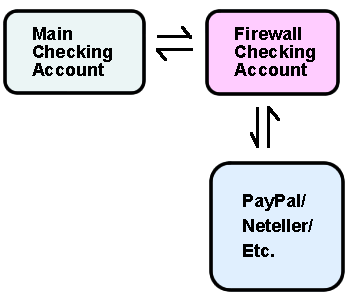 (Best diagram ever, I know.)
Whenever you need to give out your account information to a questionable entity, use the Firewall account numbers. This way, the money in your main account is always protected. Even if your Firewall account gets compromised and your account and routing numbers are being spread around the internet and sold to the highest bidder, there would be nothing to take!
This comes with some inconvenience, as there is the added step that whenever you need to send out money, you first must transfer money from your main checking to your Firewall checking, and then withdraw from there. You may also get a NSF (non-sufficient funds) charge if somebody does try a fraudulent withdrawal, but that'd probably be better than losing your $1,000 or whatever you keep in your main checking account.
You'll need a no-minimum balance bank account to do this. My WaMu review sparked my memory, because their checking account is perfect for this. No minimums or fees to worry about, instance transfers from an existing WaMu account, and you get one free forgiven NSF charge per year. You can also do this with a no-minimum balance savings account if they allow external transfers – it takes a bit longer for transfer, but you might earn more interest. I've used Virtualbank in the past.