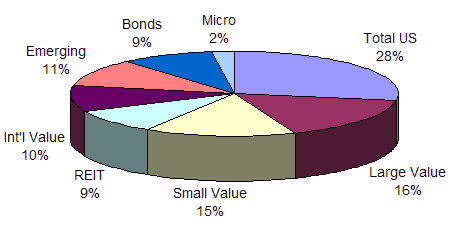 Retirement Portfolio
Fund
$
%
FSTMX – Fidelity Total Stock Market Index Fund
$23,971
28%
VIVAX – Vanguard [Large-Cap] Value Index
$14,273
16%
VISVX – V. Small-Cap Value Index
$13,230
15%
VGSIX – V. REIT Index
$8,100
9%
VTRIX – V. International Value
$8,392
10%
VEIEX – V. Emerging Markets Stock Index
$9,408
11%
VFICX – V. Int-Term Investment-Grade Bond
$7,821
9%
BRSIX – Bridgeway Ultra-Small Market
$2,015
2%
Cash
none
–
Total
$87,210
Fund Transactions Since Last Update
Bought $10,000 of FSTMX on 9/17/07 (240.327 shares)
Summary and Performance
This is my first update in almost 3 months (June update), as between the move and new jobs, there hasn't been much activity to report. I finally managed to deposit some money and bought $10,000 more of a Total US Stock Market fund yesterday in a lump sum, despite some hesitation. It will be interesting to see what happens in the financial market today and the next few months.
I did manage to calculate my portfolio's personal rate of return, which were 3.2% year-to-date, and 4.5% annualized for 2007. Positive returns came from the Emerging Markets and International stocks, while my REITs and US Small-Cap Value funds haven't been doing so hot.
Why do I continue to neglecting my asset allocation? The reasons remain the same. The first part is that many of my intended moves might be considered performance-chasing, such as a desire for a larger international allocation and slightly more bonds. Sometimes it's hard to tell if the change is actually warranted or if you've just been listening to too much CNBC or mainstream personal finance media. The second part is that I don't want to be one that changes asset allocations every other week, so if I do change things I want to it with lots of research and justifications… and I've been a bit disinterested in reading about asset allocation recently.