Bank of America now has their own high-yield savings account, though with a minimum balance. You won't find it advertised though, it's tucked away in their new My Expressions banking section. If you click around the various organizations, you'll see a variety of checking/savings combos with different interest rates. The two highest I found were the Humane Society and the Defenders of Wildlife. Here are the current rates for those two groups as of 9/17 for Oregon: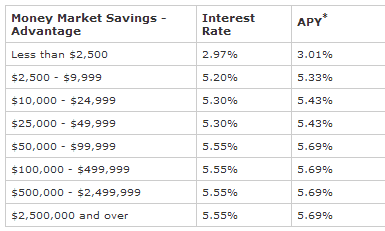 You need $1,000 to open, and a minimum daily balance of $2,500 to avoid a $12 monthly maintenance fee. If you already bank with BofA and can always keep $2,500 in savings, this looks like a great way to boost your interest rate from the usual piddly 0.20%. Be sure to look at the 'Money Market Savings' account, not the 'Regular Savings' account. Can't find it? It took me a while too, so I went ahead and made a video showing how to locate the account online.
If you are already have a BofA account you can login at the bottom and have the application pre-filled for you. New customers will experience a hard credit pull. Per a phone call, you don't need to be a member of the actual association to apply for the account. I just hope these high rates don't disappear once everyone finds out about them! (Though I'm not helping…) Thanks goes to Trice and BankDeals.
Update on 9/21: The rates have dropped to a range of 4.65% for $2,500+ to 5.01% APY for $50,000+.