In the process of trying to minimize junk, I sold off some pretty old textbooks this week. It's been over ten years since I first bought any of these books, and the last time I used them was probably about 7 years ago. I had saved them initially for the qualifying exams that PhD students must take early on in graduate school, and then later thought I might go back to school or use them as references at work. They also looked nice on my bookshelf and made me feel smart. 😉
I was about to throw them out since I figured they'd be five editions behind by now and wouldn't be worth anything, but a quick search ended getting me about $10 per book.
Compare Offer Prices
After looking around, the easiest place to start seemed to be the price comparison engine at BigWords.com. You simply enter all the ISBN numbers at once to your virtual "bookbag", and then click "Start Price Comparison". The site then looks up the price offered by buyback sites like TextbooksRus, SellBackYourBook.com, Bookstores.com, Cash4Books.net, FirstClassBooks, Valore Books, and eCampus.
They also look up current lowest asking prices at sites where you can sell it yourself, like TextbookX Marketplace, Amazon.com, Half.com, and TextbooksRus. In some cases like the one below, a buyback site actually offered more than these middlemen before their commissions.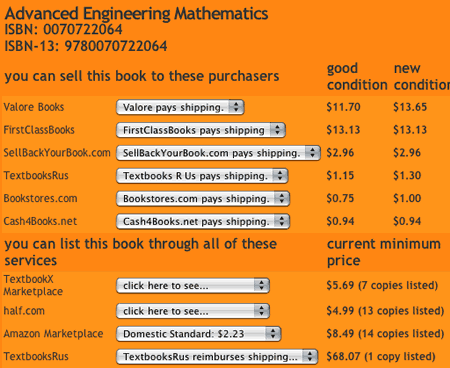 Another option I considered was to drive to the nearest college campus bookstore and run the books through each of their databases, but I decided it wasn't worth the time and gas for me. This would obviously be much easier for current students.
Book Buyback Online
I just wanted to get rid of them in bulk and didn't feel like maximizing my price for something that might never sell, so I just went with the highest offers from each of the buyback sites. In some cases, I had to group purchases because some sites had a minimum purchase amount (i.e. they won't buy less than $15 of books from you).
All the sites had a similar process, and were very simple to deal with. You add the books you want to sell, and then print out a packing slip and prepaid mailing label. Most pay for USPS media mail, although some offer FedEx or other faster service. I just had to drop them off at the post office since they weighed more than a pound. Once they receive and process the books, they then cut you a check (some offer bank direct deposit or PayPal). I haven't received my checks yet, but the sites listed appear to be reputable.
Let me know if you know of a better way to offload your unwanted old textbooks.