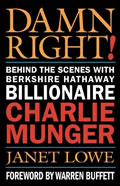 I recently finished reading the biography of Charles Munger done by Janet Lowe, Damn Right! Behind the Scenes with Berkshire Hathaway Billionaire Charlie Munger, originally published in 2000. The book did a pretty good job of filling in details about his childhood and family history, although much of it was pieced together from existing speeches, books, and articles about Warren Buffett and Munger. (Although if you haven't read any of that other stuff, you wouldn't notice.) In any case, I still found many passages worth highlighting and saving:
On learning business skills from playing poker:
"Playing poker in the Army and as a young lawyer honed my business skills. What you have to learn is to fold early when the odds are against you, or if you have a big edge, back it heavily because you don't get a big edge often. Opportunity comes, but it doesn't come often, so seize it when it does come."
On the merits of buying and holding onto investments for the long haul:
There are huge advantages for an individual to get into a position where you make a few great investments and just sit back and wait: You're paying less to brokers. You're listening to less nonsense. And if it works, the governmental tax system gives you an extra 1, 2 or 3 percentage points per annum compounded.

And you think that most of you are going to get that much advantage by hiring investment counselors and paying them 1% to run around, incurring a lot of taxes on your behalf? Lots of luck.