A few years back, Professor Harold Pollack quipped that everything you really need to know about money fits on a 3×5 index card. Folks asked him to prove it, and the resulting handwritten card went viral. Eventually, the idea became a book cowritten with Helaine Olen called The Index Card: Why Personal Finance Doesn't Have to Be Complicated. Here is the original photo: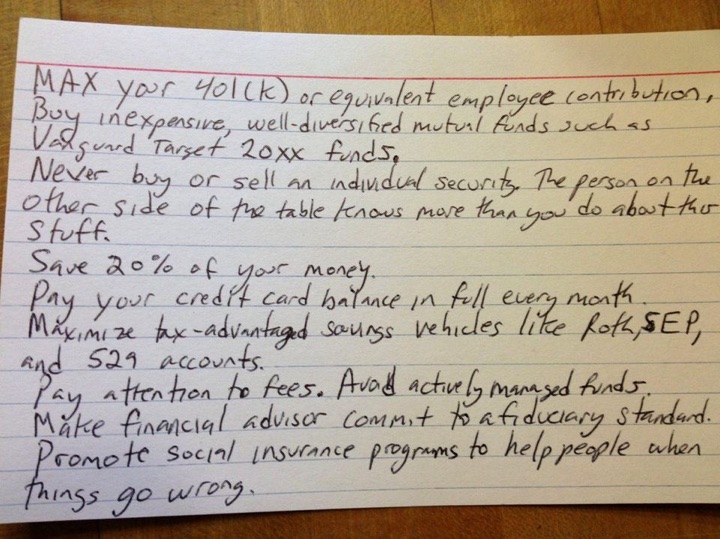 Via Abnormal Returns, I learned that Dr. Pollack recently created a new index card targeted at young adults under 30. Here again is a photo: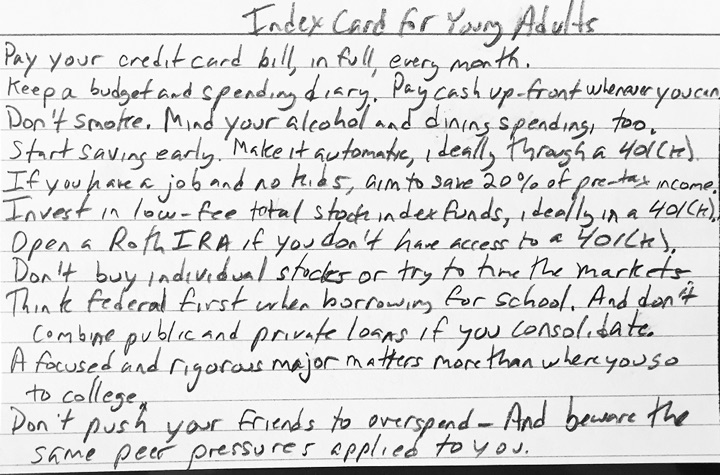 In case you can't make out the handwriting, his tips are as follows:
Pay your credit card bill in full every month.
Keep a budget and spending diary. Pay cash up front whenever you can.
Don't smoke. Mind your alcohol and dining spending, too.
Start saving early. Make it automatic, ideally through a 401(k).
If you have a job and no kids, aim to save 20% of pretax income.
Invest in low-fee total stock index funds, ideally in a 401(k).
Open a Roth IRA if you don't have access to a 401(k).
Don't buy individual stocks or try to time the markets.
Think federal first when borrowing for school. And don't combine public and private loans if you consolidate.
A focused and rigorous major matters more than where you go to college.
Don't push your friends to overspend. And beware the same peer pressures applied to you.
Sound, simple advice. But simple is not easy, and it can be hard to pull off everything on this list. I recommend using the card to help focus your efforts.