Vanguard has a new article titled The importance of saving more, which tries to address evidence that investors may believe that "choosing investments that offer the possibility for relatively higher returns—and accepting the accompanying greater degree of risk—is a more viable alternative than saving more."
In addition, the last few months probably have many of us re-examining the amount of risk we are comfortable with in our portfolios. I know I have. So what can we do?
Taken from the article, the figure below shows hypothetical outcomes for different portfolios based upon the following scenario: A 35 year-old individual begins saving 4% (grey bars) of his gross annual salary ($50,000, adjusted annually for inflation) each year for 30 years. In the red bars, the same individuals instead saves 6% of his salary. I highlighted two of the more interesting situations with the green arrows: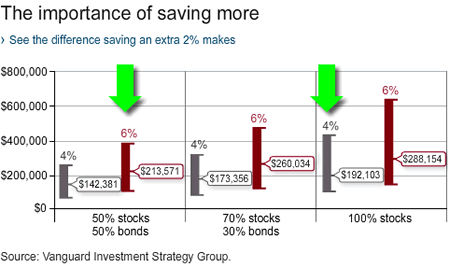 Here you see that based on historical data, the combination of a 50% stock/50% bond allocation and a 6% contribution rate leads to a similar range of outcomes as a 100% stock allocation and a 4% contribution rate. In fact, the former has a slightly better median outcome with much smaller swings over the years.
For example, a 50/50 asset allocation this year would have been down only around about 20%, instead of the stomach-churning 40% drop of a 100% stock portfolio. Wouldn't that have been nice?
Higher savings provides a higher probability of success by shifting some of the responsibility for accumulation from the less-certain return stream of risky assets to a more-certain savings stream. In the end, if an investor is trying to maximize future wealth, a marginally higher savings rate rather than a substantially higher risk portfolio is the most likely path to retirement success.
As opposed to many rules of thumb, not everyone at the same age has to have the same asset allocation. Savers may get to take less risk and sleep better at night. 🙂 Something to think about…