If you are are a renter in this market, you may be able to lower your monthly housing costs with a little research and courage. Mary Pilon of the WSJ Wallet Blog recently showed how she reduced her rent by 11% by writing a convincing letter to her building manager's office. She even shares a form letter that people can use themselves. I reverse-engineered some of it to see what types of ammunition might be useful when negotiating with your landlord:
Provide local statistics. A quick Google News Search with the keyword of your city and "average rent" or "rental vacancy rate" should bring up some useful stats. For example, according to Forbes, Atlanta is the nations 3rd most empty city, with rental vacancy rate of 16.1%.
Provide concrete, real examples. Use rent-comparison tools like Rentometer or Zilpy to find out how your rent compares with local properties. (Zilpy also provides rental trends by zip code, as shown below.) Try to find places that are very similar or better than yours, but which are renting for less than you pay now. You could even provide the exact Craigslist page.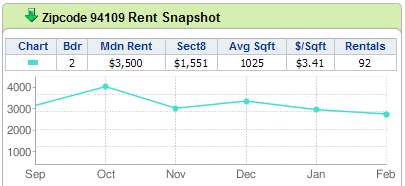 Of course, the best comparison is with another person in your complex. Ask what your neighbors what they are paying. That's how Pilon found out her neighbors were paying $300 a month less than her. If you're not that close to them, perhaps start up a conversation with "Hey, how's it going. Isn't it a bummer that our rents are going up?". You might get a "Yours too?" or a "Really, mine's still $XXX…" I don't see people being overly uptight about sharing rents.
Show why you are attractive renters. Some landlords try to squeeze out every last penny of rent, and deal with the resulting turnover, but 99% of the casual landlords I know would gladly give a discount to low-maintenance tenants. I know some who literally haven't raise rent in a decade because the renter pays rent like clockwork, takes care of the house, and never bugs them unless it's really important. You'll want to show why you should get a discount too.
Remind them that you have a solid rent payment history. Perhaps you have excellent credit scores, or maybe it has greatly improved since you first moved in. Point out any minor repairs or maintenance that you have done on the house, or offer to do some in exchange for a rent reduction. Provide reasons why you want to become a long-term renter, or even agree to extend your lease.
These tactics may not work in all areas of the country, but in lots of places it should at least be worth a shot. The worst thing they can say is no.