As you may know, I own a house in an expensive area of the country. I love my house, and I love where I live, but I also admit that I occasionally daydream about moving somewhere with a lower cost of living.

In my experience, many people don't like the idea of moving elsewhere because it involves something unknown and unfamiliar. However, if you ask people to think back to the places they have been, they'll speak fondly of those places. Specifically, I think about moving back to a place that I spent several childhood years in – Austin, Texas.
Now, there are many things to consider before moving besides costs. These may include:
Can you find a job there? If so, how will the pay change? Will it offset the change in cost of living?
Do you enjoy the local culture? Can you easily participate in your hobbies and interests?
Love, family, weather, traffic, nightlife, cultural diversity, etc.
I think a lot of people who haven't lived in Texas (and most other areas) may have a misconception or stereotype of what it's like to live there, and that is especially true of Austin. What I like about the area includes the relatively temperature weather, a large university center, a strong tech industry, and of course a low cost of living and tax burden. As for the financial details, I grabbed some graphs from the Austin Chamber of Commerce website, which were based on independent data.
Cost of Living Index, 4 Quarters Ending Q2 2007
The index takes into account the combined costs of housing, utilities, transportation, healthcare, and other factors. According to this CNN calculator based on the same index, if you are earning $100,000.00 after tax in San Jose (CA), the comparable after-tax income in Austin is 61,217.
Average Home Price, Middle Management Housing, 2007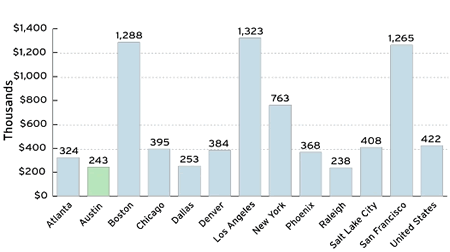 (For the chart, a "middle management house" is a single-family dwelling model with approximately 2,200 sq.ft., 4 bedrooms, 2 1/2 baths, family room, and 2-car garage.)
These might have changed a lot since 2007, but the median home price in Austin is still a shade under $200,000. If a house in California costs $600,000 that only costs $200,000 in Austin – how many more years of work would it take to pay for an extra $400,000 plus mortgage interest? Would you move to Texas if it meant you could retire an entire decade earlier? Hmmm…
Tax Burden: State & Local Taxes Per Capita, 2005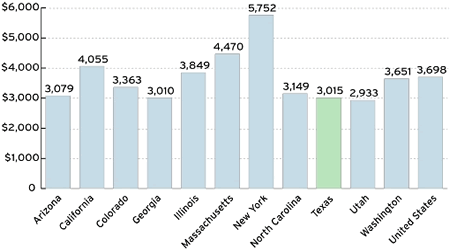 So not only do things cost less, but I can also earn a lower salary and still get the same after-tax results. In general, Texas ranks 45th out of the 50 states in terms of total taxes per $1,000 of income. With no personal income tax, the primary taxes in Taxes are property and sales tax. In Austin, property taxes are about 2.2% of appraised value per year.
Quick Summary
Going by the numbers, moving somewhere else can certainly seem attractive. For me, not only do things cost less as a whole, but my income would take much less of a tax haircut as well. Now, I don't think everyone should move, and I have no plans currently to do so myself. But if you are re-examining your financial situation, it can be worthwhile to keep an open mind and consider the possibilities. Everything is a trade-off, and what you gain may be worth more than what you lose.