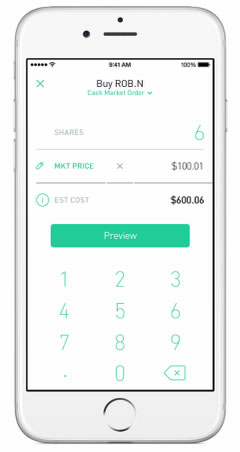 Updated. Robinhood is one of the new wave of brokerage apps. They started with free stocks trades, but have since expanded their suite of services to the following:
Free stock and ETF trades. No minimum balance requirement.
Free options trading. No commission and no per contract fee, plus no exercise or assignment fees.
Free trading of Bitcoin and other cryptocurrencies 24/7.
Free share of stock for new users with referral.
Top alternatives to Robinhood.
WeBull (free stock bonus). WeBull app is also good for active traders with free stock trades and free options trades, but adds a real customer service phone number where you can talk to a human, as opposed to Robinhood's email address.
SoFi Invest ($75 bonus). SoFi also offers free stock trades and "slices" (fractional shares), along with a sign-up bonus and free tickets to events (SoFi is short for Social Finance).
Firstrade. Firstrade includes free trades of mutual funds, which is rare… if that is your thing.
Background. I've been Robinhood beta user since mid-2014. I was skeptical as I've been an long-time early adopter of free trading platforms (read: cheapskate investor). In August 2015, they rolled out both iOS and Android app and reported processing over 2 million free trades. In 2017, they reached over a million users. In 2017, Bloomberg reported them raising money at a $1.3 billion valuation. In 2020, CNBC reported them raising money at an $8 billion valuation!
Application process. You must provide your personal information including Social Security number, net worth, income, investing experience, etc. This is the same as any other brokerage firm, but this may also be the first such account for many users. Everything was done online; there were no paper documents that required mailing or faxing.
Core features review.
Legit. Robinhood Financial is a member of the SIPC which protects the securities in your account up to $500,000. Data is encrypted with SSL. Apex is their clearing firm.
$0 commission trades. Yes, it works, all with no minimum balance requirement.
Market orders, limit orders, stop limit orders, and stop orders available. Certain orders may be entered as good for the day or good till canceled (GTC).
No short-selling.
Free options trading: No commission and no per contract fee upon buying or selling options, as well as no exercise or assignment fees. Level 2 self-directed options strategies (buying calls and puts, selling covered calls and puts) as well as Level 3 self-directed options strategies such as fixed-risk spreads (credit spreads, iron condors), and other advanced trading strategies are available.
Customer service limitations. The Robinhood customer service phone number is (650) 940-2700 during during market hours (9:30am – 4:00pm EST), however many readers have reported difficulty getting through. (Update: I no longer see any mention of this phone number on their website.) They want you to use their customer service email "support@robinhood.com". The lack of instant customer service via phone is one major way that Robinhood is not the same as a major brokerage account like Fidelity or Schwab.
Funds transfers. You can manually link any bank account with your routing number and account number, but you can also directly use your username and password at these banks: Chase, Bank of America, Citibank, Wells Fargo, U.S. Bank, Charles Schwab, PNC, Silicon Vally Bank, and USAA. ACH transfers are free and take approximately 3 business days (same as other brokerages). There is also a automatic deposits feature where you can schedule ACH transfers on a weekly, biweekly, monthly, or quarterly basis.
ACAT account transfers. Robinhood now accepts incoming stock transfers from outside brokerage accounts. To do this, go your app account menu, select "Banking", then select "Stock Transfer" and follow the on-screen instructions. Incoming transfers are free. Outgoing transfers will incur a $75 fee.
Robinhood Instant. Robinhood Instant is a free upgrade that gets you a "limited margin account" that has the following features:
Immediate access to funds from selling stock. That means you can reinvest those funds without waiting two days for settlement. (All brokerage margin accounts offer this.)
Limited instant deposits. Use up to $1,000 of your pending bank deposits right away. No waiting 2-3 days for a bank transfer to complete.
What's the catch? Getting free trades is great, but be aware of the following:
Although they announced that a web interface is available, I have been on the waitlist since early November (currently #600,000 in line). Full rollout is not scheduled until some time in 2018. Everyone can access their account via a mobile Apple iOS or Android device (iPhone, iPad, iPod Touch, Android phone, Android tablet).
There are unofficial sites that use the Robinhood API to provide web access, but I would be wary of sharing your login credentials with a 3rd-party.
I'm currently on a wait list for the free options trading as well.
Broker-assisted phone trades are $10 each, according to their fee schedule.
Electronic statements are the default and only free option. I don't even see an option to enable paper statements in the app, but according to their fee schedule paper statements cost $5 a pop.
How do they make money? First, Robinhood will make some money the same way other brokers do: collect interest on your idle cash, charge you interest for margin loans, and sell order flow. The most innovative prospect is to the plan to sell API access to other financial apps.
The fact that Robinhood sells order flow may leave you with a slightly worse execution price as compared to other brokers with more complex order routing. If you are making large value trades, then this small percentage difference may add up to something significant that matters more than commission price. With my tiny order volume, I am fine with them selling my order flow if they are giving me commission-free trades.
Robinhood Gold is their premium service tier that gives you extending trading hours and interest-free margin for $10 a Month. My Robinhood Gold review.
User interface. Over the last 10 years, I've opened an account at the majority of the "discount" brokerage firms. I've had $0 trades before, along with $2 trades, $2.50 trades, $4.95 trades and so on. What makes Robinhood special is their modern, app-centric approach. I agree with this quote from Wired:
But the app's simplicity is meant to be about more than style. Ease of access and understanding is meant to make Robinhood compulsively engaging for a new generation of investors that don't find the stock market very accessible from the mobile screens at the center of their lives.
Screenshots.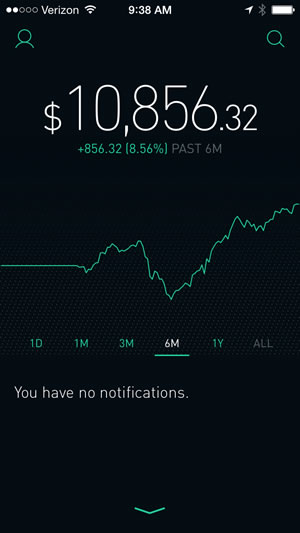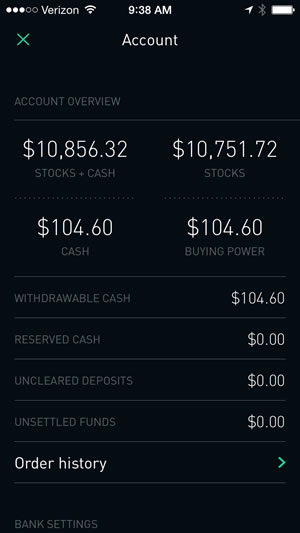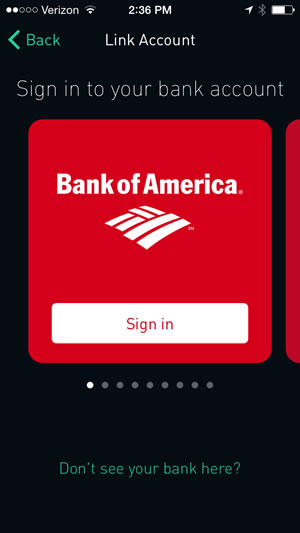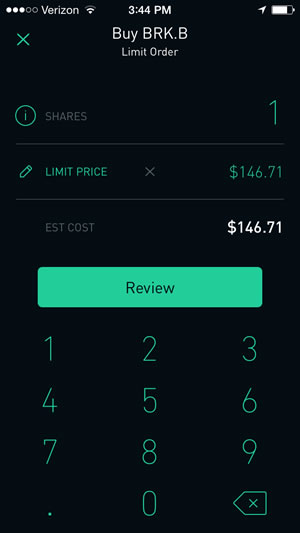 Recap. Robinhood delivers on their $0 stock trades promise with no minimum balance. The app interface is clean and intuitive. Customer service can be slow to respond as they direct you to contact them only via email.