UPDATE: Rates have dropped, but these checking account still maintain around 2% APY edge over traditional online savings banks and 3% APY over big megabanks.
You may have seen some billboards or heard a radio ad around town for a local credit union offering a curiously high interest rate. 4% APY? Even 5%? They usually go by names like TurboChecking, Great Rate Checking, SuperRewards Checking, or similar. What's up?
Background
It would seem that small local banks and credit unions are being squeezed on one side by megabanks offering "free" checking and a million ATMs, and on the other side by lean online savings accounts paying higher interest. It's hard to compete. But then a company called BancVue came up with a different solution for all those small banks and credit unions who want to differentiate themselves.
The basic idea: Offer customers a really high yield and ATM fee rebates, but only if they jump through certain hoops. Hopefully, this carrot will attract lots of new customers. If they don't, then they just get a plain "free" checking account with piddly interest. In the meantime, you try to make more money with credit card transaction fees and cross-selling other products. BancVue actually guarantees that "Reward Checking relationships will be twice as profitable as your Free Checking relationships".
The "Catches" and Requirements
So what are the hoops? Usually you have to satisfy all of these restrictions to earn the advertised rate and get ATM fee rebates:
Make 8 to 15 "signed" debit card transactions each month (use it like a credit card).
Make one qualifying direct deposit, auto-debit, or online bill payment each month.
Receive electronic statements only (no paper).
Log into your account at least once a month.
The rate only applies to the first $25,000 (varies). Balances over that earn significantly less.
As you can see, most of these activities strongly encourage you to shift all your banking activities to this new bank. You have to put money in, spend the money, and even check your balance online every month.
The Potential Profit
The interest rate offered varies from bank to bank, but is usually between 4% and 6% APY. I would say the average no-fee, no-minimum high-yield savings account earns about 3% right now, maybe more. Since these are exactly that – no fees, no minimums, no hassles – I'll use that as one comparison. If you somehow leave exactly $25,000 in your account at all times:
$25,000 x 6% APY = $1,500 per year
$25,000 x 3% APY = $750 per year
So the 3% interest gap results in a maximum gain is $750 of taxable interest per year, or $62.50 per month. Not bad for those with lots of cash available. But lets say your average balance is $5,000. Then your maximum gain is only $150, or $12.50 per month. The monthly number is probably more appropriate because it is anyone's guess how long the gap can stay this large. To estimate more accurately the potential gain for your situation, you can use my Ultimate Rate Chaser Calculator.
Concerns and Strategies
Here's the key thought. If everyone satisfied all of the requirements and earned a FDIC-insured 6% yield, the bank would be losing money like crazy. They are either depending on many people to either forget or screw up somehow. And even if you do, there is the potential that you'll have to argue with some customer service rep about it. This is in comparison to the relatively stupid-proof no-minimum no-fees savings accounts. For every month you don't fulfill every requirement, you'll essentially be losing interest. You might even lose money because ATM fees will not be rebated in that case either.
So first of all, you need a reliable system to satisfy all of the requirements every month, preferably early on in each cycle. Some banks treat electronic transfers from other banks as direct deposit, so scheduling a monthly repeating transfer would work there. For the monthly login requirement, perhaps a monthly Google Calendar or IWantSandy e-mail reminder would be a good idea.
Next, you'd want to make your balance large enough to take advantage of the higher interest rate, but not too high as to you exceed the limit and bring your overall effective interest rate down.
The biggest pain is the ~10 debit card purchases per month (ATM visits don't count). You don't want to switch all of your purchases because you'll be losing out on the potential 1-5% cash back from a cashback or rewards credit card. One strategy is to pay bills like your cell phone or cable bill online, but only in partial amounts like $5. Others make repeated small purchases (i.e. a few stamps) at the Post Office. Here's my silly but practical solution – each month I take a post-it and cut out only part with a sticky backing. I draw 10 boxes, stick it on the card, and I check off a box each time I use the card for a small purchase.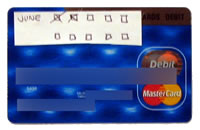 Finally, these rates can drop at any time, and they often do. Which means if you are really a rate chaser, then you might be finding yourself constantly switching banks, waiting for ATM cards to arrive, and trying to satisfy multiple accounts while moving money around. Since these are small banks, most of them have no online interbank funds transfer system. Result: Lots of hassle.
So, Is It Worth It?
As always, I leave this ultimately up to each person. If you are a real rate chaser, have at least $20,000 in cash, and are very discipline and organized, then this is one way to get some extra yield from your money. If you have low balances or tend to get busy at times, then your chances of actually coming out behind a no-brainer savings account are very real.
For me, the hassle hasn't been worth it until now, mainly because many of these rates seem to drop right after I consider applying. However, the current the gap between the interest rates offered by online savings accounts is still around 2%, my Vanguard municipal money market yields are pathetic again, and also a local credit union I was going to join anyways is now offering one of these accounts, so I decided to try it out with a bit of cash. So far, it's okay but I really don't like having to pray each month that I get the proper interest credited.
Local Banks May Be Best
All things considered, I would recommend first looking for a local bank that offers this program at a good rate. This goes back to the fact that banks are counting on lazy/apathetic people to counter the hardcore rate chasers. If they start losing money, they will lower the advertised rate. A credit union with restricted membership may offer a less diligent customer mix. In addition, I continue to find better customer service if you can simply walk in and talk to a real human. You can find a list of participating banks by state here.