My 5-year-old shredder is dying from all the junk mail I've fed it over the years. I'm totally hyped about buying a jumbo 12-sheet shredding beast. Coincidentally, I just ran across a free service called ProQuo.com that supposedly helps you remove your name and other information from a variety of different lists, including Coupons & Weekly Circulars, Snail-Mail Marketing Lists, Mail-order Catalogs, Telemarketing Lists, and Credit Card and Insurance Offers. From their FAQ:
How does ProQuo help consumers?
ProQuo helps consumers remove their personal information from marketing lists, data brokers, and other organizations responsible for a large amount of junk mail. ProQuo does this by helping people request removal directly from these sources. In many cases, ProQuo will send these requests electronically to the specific organizations that consumers select. For companies that don't accept electronic requests, ProQuo helps consumers to print out forms for mailing or directs consumers to third party web sites.
I've been trying them out, and many of them do require you to print out and mail in a form to request removal. Still, many accept electronic requests, and I had no idea any of this was even an option. ProQuo also incorporates other removal services like the National Do Not Call List. Here's a screenshot from their interface: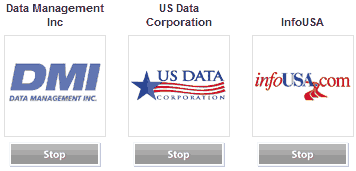 If the service is free, how does ProQuo make money?
In the future, ProQuo will allow consumers to request offers that they do want in addition to eliminating the offers that they don't want. ProQuo will make money from the advertisers that provide these offers. ProQuo will only provide these offers when requested by consumers.
Hmm… I'm kind of skeptical but their Privacy Policy looks okay at first glance. "We will never release consumers' personal information without their express consent – ever."