In case the last 5 free ways to get your credit score weren't enough, there's also the free Credit.com Report Card. It is actually a pretty comprehensive analysis, providing:
Credit Score Range: This provides a hint of your credit score based on the standard FICO range of 300-850. (You have to pay for the specific number… see below)
Credit Score Grades: School-style grades (A-, C+) of each of the main factors in FICO scores: Payment History, Debt Usage, Credit Age, Account Mix, and Recent Inquiries.
Actual Credit Report Details: Your address on file, employer data, total accounts, total credit limits, number of inquiries, etc.
Here's an example screenshot: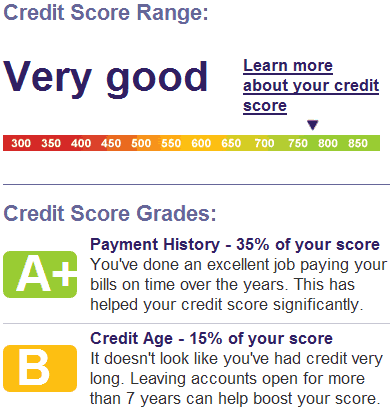 I've bought my credit report and score before, and this is the kind of information I would find useful anyhow. I don't care if my score is 728 vs. 732 vs. 721 since slight changes occur all the time. Note that this analysis is based on your data from the TransUnion credit bureau only. You can upgrade to reports from all three credit bureaus plus actual credit scores for $14.95 per month.