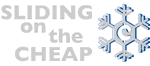 This is a bit late in the season, but if you like to ski or snowboard be sure to sign up for the e-mail newsletter by SlidingOnTheCheap.com. They send out a free weekly newsletter that summarizes all of the specials and discounts offered by each of the resorts in most of the major US ski areas: Lake Tahoe, Colorado, Pacific Northwest, New England, Utah, and Southern California. It saves a lot of time versus tracking all of the changes on each of the websites separately. They also give away several free lift tickets each week, and occasionally get their own subscriber-only deals.
It's always good to stay subscribed year-round because often ski resorts will sell some really cheap season passes early on in the year. For the Lake Tahoe area specifically, you can also bookmark SnowBomb.
Otherwise, if you are willing to take a gamble on buying some employee freebies or lift-ticket credits, you can either keep your eye open at the resort for scalpers or try on your local Craiglist ahead of time (just search "lift tickets"). We recently saved $24 on each of 4 lift tickets this weekend this way.