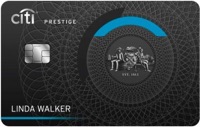 It has been nearly a year since I picked up my Citi Prestige card (review), and I've done my best to take advantage of the available perks:
– $250 in Airfare credit for 2015
– $250 in Airfare credit for 2016
– $100 statement credit to offset my TSA PreCheck / Global Entry membership
– Free access to Business Class lounge at Vancouver International Airport via Priority Pass (2 adults, 2 children)
– Free access to Admiral Club lounge at Los Angeles Airport (2 adults, 2 children)
– I reserved a free round of golf ($210 value) at the Ko Olina Golf Course on Oahu, Hawaii via GolfSwitch. Here's a picture of me at Ko Olina trying to avoid their water(fall) hazard.
You know I was going to get my value out of that $450 annual fee! If I travelled more, I could've gotten more usage out of the lounge access, but that's all I could manage this year.
The final thing for me to do is to redeem my 50,000 ThankYou points (plus the points earned from making purchases on the card). As noted in my review, the easiest way to maximize value is by redeeming the points for any economy flight on American Airlines. (I'm sure you could come up with a higher value via conversion to Cathay Pacific or Singapore Airlines miles and getting business class tickets.) Every 10,000 points = $160 in American airfare, so 50,000 points = $800 in American airfare. (For other airlines besides American, the conversion is every 10,000 points = $133 in airfare.)
In order to get the 1.6x value, you need to book while you have an active Citi Prestige card. The flight itself can be scheduled far ahead of time. Otherwise, you can still keep the ThankYou points with another linked valid ThankYou card (no annual fee options available), but you won't have the improved American Airlines redemption option.
How to redeem. You can either log into your Citi Prestige account at Citicards.com and then click on the ThankYou points link, or go directly to ThankYou.com. Once there, click on "Travel" and then "Flights" as shown in the screenshot: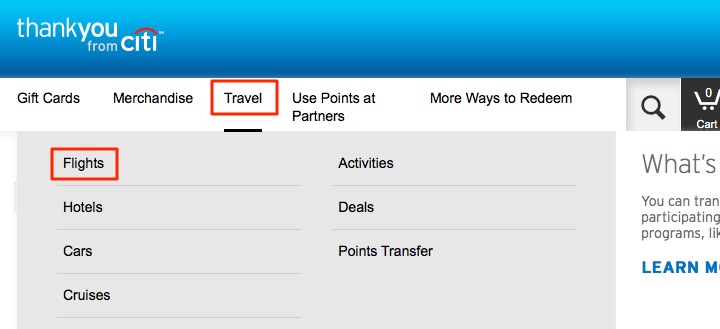 From there, it works like any other flight booking website like Expedia or Travelocity. Input your desired flight details, and it will show you options. The advantage here is flexibility, as there are no geographic limitations or blackout dates. Here are the results of a roundtrip flight during the summer from San Francisco to Honolulu for $571 or 35,687 points: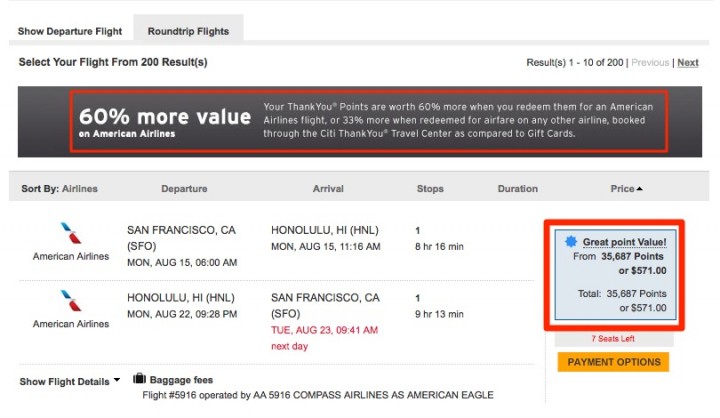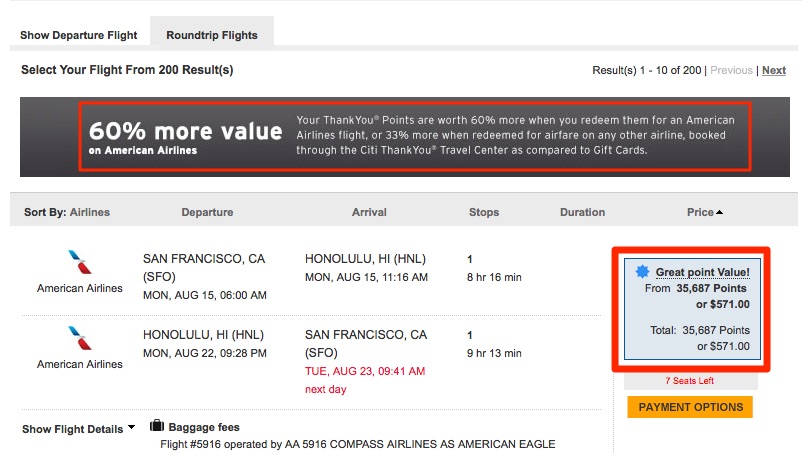 Quick math confirms the 100 points:$1.60 value ratio.
Are the Citi ThankYou Travel Center prices the same as AA.com or Expedia? Yes, for every search that I've done. Here is a screenshot of American Airlines website for the exact same date and flight details as above, showing the same $571 cost:
In fact, for another route the Citi Travel center actually showed an additional cheaper flight option with a stopover, while AA.com only showed the more expensive, direct flight.
What if you don't have enough points to cover the entire flight? Use the Points + Cash option. Citi allows you to split the cost up. You can use up every ThankYou point available at the 100 points:$1.60 value ratio, and then pay cash for the remaining amount.
For example, let's say the flight you want costs $200 and you only have 10,000 ThankYou points. With your Citi Prestige card, you can book the flight for 10,000 points ($160 value) and $40 cash. Any leftover cash amount can be charged on the Citi Prestige and thus be covered by the $250 annual airfare credit (it doesn't have to be used up all at once either, and applies to any airline).