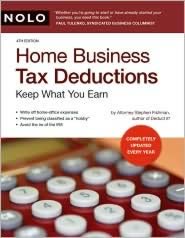 I got a lot of positive responses from my self-employed tax-related post yesterday. I'll be happy to continue sharing more of my experiences, but given the complexity of tax issues I wanted to throw out a book recommendation – Home Business Tax Deductions: Keep What You Earn by Fishman.
This is my hands-down favorite book on tax deductions for those with home-based businesses. It has saved me many times the $20 cover cost. I checked this book out from the library first as well, but ordered it online within a few days. I've read several other tax books and they are either (1) too light on the details, or (2) too aggressive and bordering on both the unethical and illegal. This book provides a good summary of the IRS code, and practical ways to substantiate deductions that you qualify for.
The primary benefit of a good tax book is that it gives you the confidence to take the deductions that you deserve and qualify for. Many times people simply don't try because they are afraid of the Big Bad Audit. Instead, I am now confident that I followed the rules and can pass an IRS inspection. Remember the difference between tax avoidance and tax evasion:
Tax Avoidance is perfectly legal. The courts have stated clearly that you have no duty to pay more taxes that what is minimally required by law. You have every right to take all legitimate deductions and also to structure your business to minimize taxes.

Tax Evasion is a crime. This involves fraud, misreporting income, or taking deductions that you do not qualify for.
(Is it tacky to quote yourself?) Even if you have an accountant, I think it is good to understand a bit of what is going on.