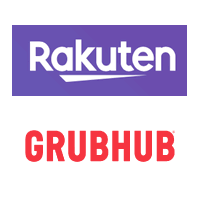 There are three separate deals going on right now that are stackable. Altogether, if you sign up for new accounts for Grubhub and Rakuten, you can effectively get about $45 of food for free!
$30 Rakuten bonus. Rakuten (formerly eBates) is a cashback shopping portal. Right now, they have an limited-time $30 new user bonus via referral when you make your first purchase of $30+ through any participating Rakuten retailer within 90 days of joining. The standard non-referral bonus is only $10.
$10 off first order of $15+ from Grubhub. New users of Grubhub food delivery can get $10 off your first Grubhub order of $15+ and free delivery if you join via my referral link. This comes from Grubhub itself.
11% Cash Back on first Grubhub order via Rakuten app. Rakuten actually gives cash back on Grubhub purchases, which makes it an easy way to trigger the $30 bonus above. In addition, you can get 11% cash back on your first order and also 2% cash back on future orders. You must order via their app.
Here is a detailed step-by-step breakdown:
First, sign up for Grubhub here.
Next, sign up for Rakuten here.
Download the Rakuten app and sign in.
Using Rakuten app, search for Grubhub and order within the app.
You should be able to apply your $10 off code and also get free delivery on your first order. Be sure that the net order amount after discounts and before tax and tip is a least $30. So order about $45 of food.
This will trigger the $30 Rakuten bonus, and then you'll also see the 11% cash back afterward in your Rakuten balance.
Let's say you order $45.45 of food. $10 off from Gruhbub + $30 off from Rakuten + 11% cash back = $45 of free food! These are all my referral links and I will get the referrer credit when you use them. Thanks if you use them!
For future orders, you can still get 2% cash back on Grubhub through Rakuten app, on top of any credit card rewards. In addition, you can also get free Gruhhub+ membership with Lyft Pink membership (included with the Chase Sapphire Reserve card).