We added a new member to our family today, of the four-legged and fuzzy variety. Her name is Pumpkin, and she was placed in our home by a dog rescue group.
Getting a rescue is kind of stressful. You put your name on lists. You get a call that dogs need a home. You have to sit down, talk it over, and decide whether to say yes. Do you have the time? The money? Then, you still don't know if you'll get the dog. People volunteer ahead of you. People drop out. You get a phone call asking if you are still available? You ponder again. You say yes, but you still can't be sure until you actually pick them up. (To be fair, I'm sure it's much more stressful for the animals.)
To top it all off, you don't know much about the history of the dog and any health and/or behavioral problems. She's intact, so we will try to take advantage of the discounted spay and neuter services that many humane societies offer. As for Pumpkin, we don't know much about her history, but from what we were told she was one of 20 dogs someone used to run a puppy mill in their house. We assume that she's been stuck in a cage much of her life, as she is over 2 years old and is not potty-trained nor leash-trained. She's a bit skittish, but I can already see her coming around. I don't have any eloquent words, so read these instead.
This will of course affect our finances, but we'll take it as it comes and I already know I'll be getting a huge increase in the quality of my life. Dogs seem to take love and multiply it! Hey, at least our holiday gifts to each other are taken care of already. 😉 Let's hope the house-training goes by quickly…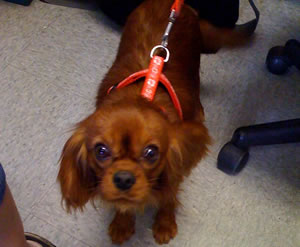 (Guess why her name is Pumpkin…)