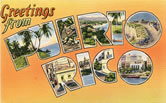 Speaking of holding municipal bonds, I've been catching up on the troubles in Detroit and Puerto Rico. Last month, there was a flurry of articles warning about mutual funds with high exposure to Puerto Rico bonds, as they were yielding over 9% and trading at 60 cents on the dollar. Most junk corporate bonds don't yield that much! Yet, they still clung to investment-grade status from the major ratings agencies because if they went any lower, the bonds would crash as many mutual funds would be then forced by their mandates to sell the bonds. Don't you love ratings agencies?
From NY Times:
For example, the $34 billion Vanguard Intermediate Term Tax Exempt fund [VWITX], the biggest muni bond fund, lost more than 5 percent from May through August. And the largest exchange-traded tax-exempt fund, the $3 billion iShares National A.M.T.-Free Muni Bond fund [MUB], lost 8.3 percent in the same period. […]

In late August, it was Puerto Rico's turn to roil the market. A Barron's article detailed the territory's high debt load and an economy that wasn't producing enough revenue to easily cover that debt. The S.& P. Puerto Rico municipal bond index fell 10 percent over the next two weeks before the bleeding stopped. Still, the index was down 16.4 percent in the first nine months of the year.
As of 11/19/2013, Morningstar reports the trailing YTD total return of MUB was -2.97% and VWITX was -1.43%. From Reuters:
Municipal bond funds with at least 5 percent exposure to Puerto Rico have posted a negative return of 5.07 percent this year. Funds with less than 5 percent exposure are off just 0.69 percent, according to Lipper, a unit of Thomson Reuters.
From Kiplinger:
Not surprisingly, almost all muni funds run by Fidelity, T. Rowe Price and Vanguard have less than 1% of their assets in Puerto Rican bonds. These three fund shops all charge low fees, do good research and are conservative in their credit analysis.
While that last part made me feel better, I wanted to see how much my Vanguard funds were holding shortly before this sharp drop. I pulled up the two most recent annual and semi-annual reports directly from Vanguard.com and looked up the holdings. Here is the amount of exposure to Puerto Rico municipal bonds in each of their individual tax-exempt mutual funds as a percentage of assets.
Fund Name
As of 10/31/12
As of 4/30/13
Vanguard Limited-Term
Tax-Exempt Fund
0.0%
0.3%
Vanguard Short-Term
Tax-Exempt Fund
0.8%
0.1%
Vanguard Intermediate-Term
Tax-Exempt Fund
0.8%
0.8%
Vanguard Long-Term
Tax-Exempt Fund
1.1%
1.3%
Vanguard High-Yield
Tax-Exempt Fund
1.6%
1.8%
For comparison, the passively-indexed iShares National AMT-Free Muni Bond fund (MUB) had a 4.21% weight in Puerto Rico bonds as of 2/28/13, and a 3.69% weight in Puerto Rico bonds as of 8/31/13. I wonder if Vanguard will start to buy more of these bonds if they view them as a better value now.