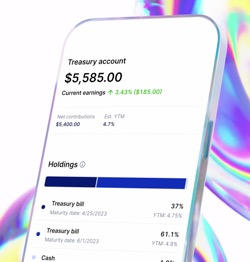 Investing app Public just announced a Treasury Account which basically lets you buy and hold 6-month US Treasury Bills in a more convenient wrapper (press release). You can invest as little as $100 and they will buy the T-Bills for you (and sell them for you if you choose to withdraw).
This is done via a partnership with Jiko. From their site:
Investments in T-bills are made in $100 increments. […] T-bills are held in custody at The Bank of New York Mellon. Proceeds are automatically reinvested (i.e., T-bills are "rolled") at maturity. When funds are needed, T-bills are liquidated on-demand.
Right now, T-Bills yield more than most online savings accounts, and their interest is also exempt from state and local income taxes. As of 1/12/23, the rate on a 6-month T-Bill is 4.80%. This number changes every minute when the market is open like a stock, unlike the usually slower pace of weekly to monthly changes for savings accounts.
Fees. I was initially somewhat excited about this account, but what was not mentioned at all in the press release, and also put at the bottom of their fine print is the fact that they charge a fee of 0.05% per month (0.60% annualized) for this service:
In exchange for the management, trading, and custody of Treasury services, Jiko charges a flat management fee of 5 basis points per month based on the average daily balance of your Treasury account. This amount will be deducted from your Treasury account on a monthly basis. Public receives a portion of that management fee as a referral fee.
I like the idea of making T-bill purchases and sales more simple and hassle-free, but 0.60% annually is a pretty significant haircut that brings the net rate much closer to the top online savings accounts. They should really include the net interest on their rate comparison charts. I know there will also be a bid/ask spread paid if you bought the T-Bills yourself on the secondary market, but you can also buy T-Bills as new issues and hold to maturity. You could also buy shorter 4-week T-Bills.
In the end, the fees basically make this comparable to a relatively-expensive short-term Treasury mutual fund or ETF. The iShares 0-3 month T-Bill ETF (ticker SGOV) only has a 0.05% expense ratio, and you can buy that ETF from any brokerage account.
The Treasury Accounts are not live yet, but some of you may already have joined Public last year for their account transfer bonus (tiers have gotten worse since initial offering).
New customer to Public? Their referral program offers "free stock" worth between $3 and $300 if you open with a referral code and deposit $20+ (referrer also gets whatever you get). My referral code is mymoneyblog which you can enter on the second page of the transfer promo link above. Thanks if you use it! Alternatively, the shopping portal Swagbucks is offering $16 worth of Swagbucks points right now.