(Update 2023: Better Future suspended their free background checks during the pandemic, but I just noticed that they are back up and running, An inaccurate background check can prevent you from getting a job, so it is better to check now and start the process to dispute any incorrect information immediately.)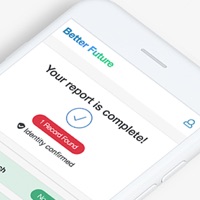 While updating my posts on free Consumer Data Reports, I noticed that Checkr offered a free background check via the BetterFuture.com website. No credit card required, no trials. Checkr is a legitimate company that provides background checks for Uber, Lyft, Postmates, and Instacart, so I valued their results more than most other "free lookup" sites.
The benefit of knowing what is on your background check is that you can fix any inaccuracies before applying for employment. In return, Checkr makes money by trying to connect you with relevant job opportunities based on your unique information.
Better Future takes your basic information (name, address, SSN) and pulls data from federal databases and public records from over 3,200 local counties. The sections of the background check report are:
Address History
SSN Trace
Sex Offender Search
Global Watchlist Search (International crime databases)
National Criminal Search
County Criminal Searches
I decided to run a free background check on myself, and it only took about an hour even though it said it might take up to 3 days. The information shown was all correct to my knowledge. Here's a redacted screenshot of my report:

The background check does not include Employment History, Driving Records, or Civil Records. Here is the disclaimer that comes with the report:
This background check is for the named individual only. Better Future searched the sources listed below based on the information you provided. Failure to provide accurate or complete information may affect results. Third parties, such as potential employers, may search other databases for information about you. This is not a "consumer report" as defined by the Fair Credit Reporting Act (FCRA) and may not be used for determining any person's eligibility for credit, insurance, employment, housing, or for any other purposes covered under the FCRA.
Bottom line. Checkr offers a free background check via BetterFuture.com. No credit cards, no trials. In return, they can match you up with job opportunities (optional). I signed up for a free report and I found no errors in the information.