ProPublica has a new article Amazon Says It Puts Customers First. But Its Pricing Algorithm Doesn't, which outlines how Amazon does not always list the lowest price including shipping as the first available option. Here's an example they provide of how this works on some pruning shears if you don't have Amazon Prime or reach the $49 Super Saver Shipping tier: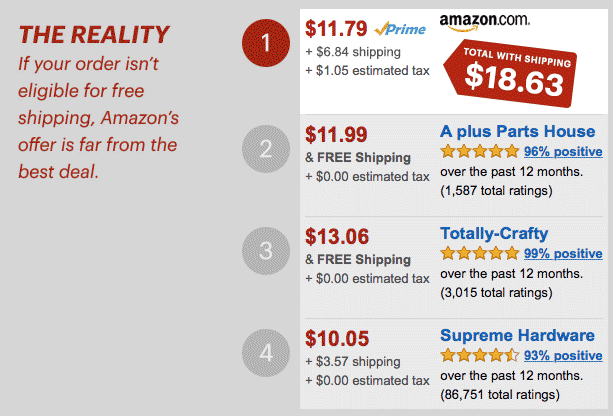 Amazon really, really wants everyone to buy Amazon Prime. They do all kinds of little nudges to get you to join. For example, their Super Saver Shipping option went from a few days to oftentimes weeks to get to me. Another way they promote Amazon Prime is by promoting merchants that join their Fulfilled by Amazon (FBA) program, because that means customers can buy more stuff with Prime. ProPublica points out that Amazon used to be more blunt about it with this former language:
Because most FBA listings are ranked without a shipping cost, you get an edge when competing!
Bottom line: If you don't have Prime and don't qualify for Super Saver Shipping, the default buying option will often not be the cheapest. By using the term "algorithm", that suggests to me some sort of complicated scheme. What Amazon does is simple but perhaps deceptive: They assume that their Prime-eligible items will ship to you free, whether you have Prime or not. If you don't have Prime and don't reach the $49 tier for Super Saver Shipping, you should remember this rule across the entire site. Don't click on the "Add to Cart" button without closer inspection. Amazon is simply adding yet another inconvenience for non-Prime shoppers. (I can't wait for the new Top Gear, er… Grand Tour to start though!)