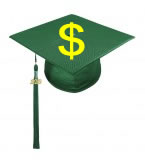 The Brookings Institution came out with an interesting report titled The coming Public Service Loan Forgiveness bonanza. Here are the highlights of the paper:
The Public Service Loan Forgiveness (PSLF) Program limits your payments to 10% of your discretionary income. After 10 years (120 monthly payments), any remaining loan balance is forgiven (principal + interest). This is significantly shorter than the 20-25 year period required by the Revised Pay As You Earn Repayment Plan (REPAYE Plan) available to all workers with eligible federal student loans.
The employment requirements allow 25% of the workforce to be eligible for PSLF. Qualifying employers includes government organizations at any level (federal, state, local, or tribal), 501(c)(3) not-for-profit organizations, and other not-for-profit organizations that provide certain types of qualifying public services.
If you can estimate your future income and you plan to work in a qualifying job, an individual can also estimate the maximum amount of federal student loan payments they will have to pay back. Anything borrowed over that number can eventually be forgiven. This may encourage some people to borrow large amounts ($100,000+) for graduate or professional school, because they know they won't have to pay it back.
The Congressional Budget Office estimates that two features of Income-Based Repayment and PSLF that favor those with the largest loans and incomes will cost taxpayers over $12 billion in forgiven loan repayments over the next 10 years.
Here is the report's conclusion:
Policymakers appear to know little about the Income-Based Repayment program and the Public Service Loan Forgiveness benefit for federal student loans. That lack of awareness is troubling, as these programs are a major force in how students are financing their educations. It is fair to wonder then whether lawmakers really intended for PSLF to be an open-ended loan forgiveness program for a quarter of the jobs in the economy.
Qualifying public service employment details. I knew there was some sort of program out there for public service jobs, but I did not know that the 25% of all jobs qualified. Here's some information taken from the PSFL certification form [pdf]:
Governmental organizations including any Federal, State, local, or Tribal government organization, agency, or entity, a public child or family service agency, a Tribal college or university, or the Peace Corps or AmeriCorps.
Any not-for-profit organizations that are tax-exempt under Section 501(c)(3) of the Internal Revenue Code.
Other types of not-for-profit organizations that provide certain types of qualifying public services, including:

Emergency management
Military service
Public safety
Law enforcement
Public interest legal services
Early childhood education
Public service for individuals with disabilities
Public service for the elderly
Public health
Public education
Public library services
School library services
Other school-based services

"Public health" above includes nurses, nurse practitioners, nurses in a clinical setting, and full-time professionals engaged in health care practitioner occupations and health support occupations, as such terms are defined by the Bureau of Labor Statistics.
Let's crunch some numbers. How much money are we talking? Here's an example from the report:
For example, we found that a student who pursues a Master of Education or a Master of Social Work, who accumulated a loan balance of $28,000 during his undergraduate studies, is likely to have all of the money he borrows for his graduate education forgiven under PSLF. Graduate school would be free for him, financed entirely through loan forgiveness, so long as he borrows to pay the full cost of his education and works in qualifying job. This example is not an outlier. In fact, it will be a common scenario for those professions and many others with similar earnings profiles.
With an adjusted gross income of $45,000, under PSLF any federal student loan balance above roughly $30,000 would be forgiven. Let's say an individual has a total gross income of $50,000 and an adjusted gross income (AGI) of $45,000. Under REPAYE and PSLF, your maximum monthly payments will be limited to 10% of your discretionary income (the difference between your adjusted gross income and 150 percent of the poverty guideline amount for your state of residence and family size, divided by 12).
Using this repayment calculator, I found that monthly max to be $227 a month starting payment ($2,724 a year) for the first year. If you assume that both your income and the poverty guidelines grow with inflation, your total payments over 10 years will be roughly $30,000. If you had a $100,000 student loan balance at 4% interest, that could be a $120,000 of forgiven debt (principal and interest) after a decade ($150,000 total, you paid $30,000).
If your income is high, you'd have to accumulate some serious loan balances to count on any significant portion being forgiven. Let's run the same numbers for someone earning $100,000 gross total income, or $95,000 AGI. The monthly payment calculator shows me the max monthly payment would be $643 a month ($7,716 a year). Times 10 years and you'll have already paid roughly $90,000.
Nearly 30% of people registered for PSFL have loan balances over $100,000.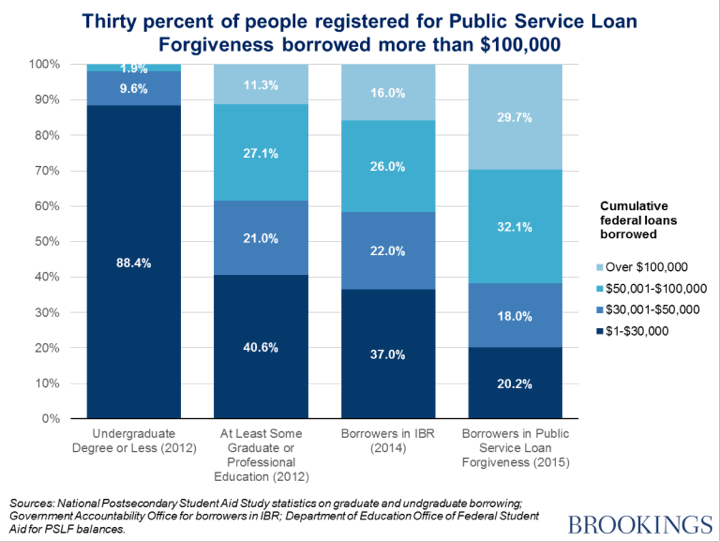 Final thoughts. PSLF definitely offers the most benefits to those with huge student loan balances and low-to-modest incomes. Student loan balances of over $100,000 can be wiped out. If you are working in a field where public sector workers earn close to the same amount as private workers (accounting for pension and health benefits in retirement), then this PSFL program may tilt your decision. For example, a healthcare worker may choose to work for a non-profit hospital over a private for-profit hospital.
Is this a loophole? How many people first look at their huge student loan balances and then choose to go into the public sector over the private sector because of this program? How many people were already planning to go into the public sector and then decide to use this program for free grad school?