Shortly after my last Prosper review update, I decided that I should go ahead an sign up for my own Prosper account in order to (1) be able to provide a better review and (2) try to perhaps find an algorithm that works. While making a few more bids today since my last ones all failed, I noticed that there is now a $25 sign-up bonus for new lenders through their referral program. Just click on the banner below: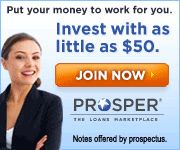 From the site:
Refer a lender
You receive $25, and your friend receives $25 as soon as your friend funds his or her first loan.
There is no promotional code necessary. If you use my link above, I also get $25. This is actually pretty good because you can fund a loan with as little at $50, and there is no hard credit check. This gives you an instant 50% return on your investment, which means you can try out Prosper without having to worry quite as much about the interest rate you earn on your loan. In my opinion, to get the best risk/return ratio, I would look for a AA loan, which has the lowest default rate of 0.2% (1 out of every 500 loans) and the highest early-repayment rate (so you can get your money out). Or maybe an A loan with zero previous delinquencies. Keep in mind that your initial $50 will need to stay there earning interest for up to 3 years.
For more information on Prosper, see my two-part Prosper review.