After two days of polling for my Frugality and Decision Making question, here are the results of my casual survey. As with my monkey poll question, each visitor was randomly given one of two different poll questions. I really love that you all put so much thought into your decision, but in fact the point I was trying to get across was a bit different.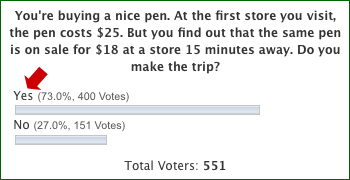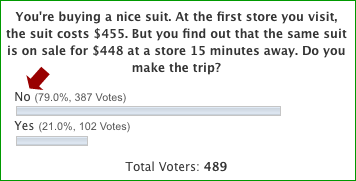 As you can see, the only difference between two questions is the original price of the item being purchased. In both cases, you are deciding whether you want to save $7 by spending 15 minutes of your time. $7 is $7. Or is it? The vast majority of readers would take the 15 minutes for a $25 pen, but the vast majority would also not spend the 15 minutes for a $455 suit.
The Answer is Relativity.
Humans are trained to base our decisions in a relative manner, and compare them to whatever is available. We hate making decisions in a void. In this case, your mind may have trouble deciding if a $7 savings is worth it, so it goes straight for the price. In this case, $7 is savings of nearly 30% for the pen, and less than 2% for the suit. The decision is now easier, even though it may not make rational sense. We should think about money in a more absolute manner, but we tend not to.
More Examples of Relativity
Think about how happy you are with your current salary. Now, imagine your co-worker who is junior to you gets paid $5,000 more a year. Much less happy now, right? H.L. Mencken noted that a man's satisfaction with his salary depends on whether he makes more than his wife's sister's husband. 😯
Rome or Paris? Let's say you love Paris and Rome equally, but have to decide between a Paris trip with hotel/airfare/free breakfast, a Rome trip with hotel/airfare/free breakfast, or a Rome trip with hotel/air but no free breakfast. Most people will proceed to pick Rome with free breakfast, because in that case you can make a comparison where you are making a clearly "superior" choice.

Given three choices, A, B (distinct, but equally as attractive as A), and A- (similar to A, but inferior), we will almost always choose A, because it is clearly superior to A-.

When Williams-Sonoma started selling a bread machine, sales initially were slow. But after they added a new "deluxe" version that was 50% more expensive, they started selling a lot. People now saw the first bread machine as a bargain.

Have you ever rationalized an additional purchase because you're already spending so much? When catering a large event that costs $5,000, a person may not think twice about adding a soup entree for an additional $200. The same person may get really excited when saving 50 cents on a can of soup.
Which dot is bigger?
Often, simply acknowledging our tendencies and trying to think more broadly can help up make better decisions in the future.

As some of you have figured out, the idea for this week's poll question and many of the examples above came from a book called Predictably Irrational by Dan Ariely, which explains how humans don't always respond perfectly logically. (The actual poll question is from a study by well-known researchers Amos Tversky and Daniel Kahnemann.) I hope to put up more poll questions from this book (so don't spoil them please :)), as I find it much more fun and interactive than a book review.