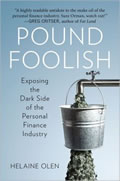 In a sea of new books, Pound Foolish: Exposing the Dark Side of the Personal Finance Industry managed to catch my eye. What personal finance geek wouldn't want to read a snarky book that promises to bash Suze Orman, Robert Kiyosaki, David Bach, Jim Cramer, and Dave Ramsey? Does that count as Schadenfreude?
The problem with personal finance magazine writers and newspaper columnists. To start, the author, Helaine Olen admits that most personal finance columnists (including herself) start out knowing nothing about personal finance and are usually just freelance writers looking for any job. New York Times columnist and financial planner Carl Richards bought a house with a negative-amortization loan (not just interest-only, the loan balance actually increases each month…) and recently did a "strategic default" (walked away from his mortgage) after the home value dropped. Another NYT columnist Joe Nocera recently admitted that at 60 years old, he's nowhere near retirement… his most recent move was to take out money from his 401(k) to remodel his house. I think this is actually an important lesson – the vanilla advice in the media is often just rehashed from elsewhere.
The problem with our money gurus. Personal finance itself is very simple. Spend less, earn more, invest for the long-term. It's also boring. Therefore, you need people with charisma, salesmanship, and usually a gimmick to draw people in. Suze Orman is new-agey "people first, then money". Kiyosaki and his fictional Rich Dad is "buy assets, not liabilities". Bach is "automatic savings + latte factor". Ramsey is "pay cash, debt is evil". The book investigates and unearths the skeletons and inconsistencies of each of these gurus. The most important point to remember is that these people got rich by selling you books on how to be rich, not by actually getting rich themselves first! Dave Ramsey declared bankruptcy before becoming a money guru, even though now he tells people to not be a deadbeat and pay their bills.
What about us? Essentially, Olen comes to the conclusion that the average investor is stupid with money. With pensions disappearing, we can't handle the responsibility of saving and investing for own retirement. It may surprise you that I agree with this, at least partly. That's the only explanation for the tiny personal savings rate, people buying in-house loaded mutual funds, the existence of equity-indexed annuities with fat surrender fees, and the popularity of daytrading and FOREX accounts. I honestly fear for the huge chunk of people that will rely primarily on Social Security in their later years. But then again, Olen reminds you that it's mostly not your fault. Middle class incomes aren't growing very fast. TVs may be cheaper, but housing and education are not. Then there are layoffs, divorce, medical issues, the financial crisis, etc.
Recap and final thoughts. I felt this book did a solid job of looking under the surface of the personal finance industry. Olen is a skilled writer and definitely did her research, even though we are only presented with the "dark" side and not the whole picture. Even a PF geek like myself learned a few things, like the beginnings of personal finance and Sylvia Porter.
My primary criticism of this book is that the overall conclusion is that our financial troubles are outside of our control. The gurus are bad. Even if they were good, personal finance education doesn't work anyway. Costs keep rising. The only answer given is a vague call for more government intervention. Olen says that she didn't propose any detailed solutions because they are "as likely to be enacted by our politicians as my dog is to wake up as a cat tomorrow morning". WELL, EXACTLY! If I were supreme dictator, I'd require anyone calling themselves a "financial advisor" or "financial planner" to be subject to the fiduciary standard. But I'm not. Comparing myself to a middle-class family in the 1950s gives me exactly zero extra dollars today. Complaining about politicians? Also zero dollars.
The personal finance industry is no different from exercise videos, diet cookbooks, or even religious teachings. We all strive to be better than we are today. Most importantly, I still believe that on an personal level there is a lot of room to make an impact. If we don't take control, who will? I'm certainly not waiting around for my dog to wake up as a cat.