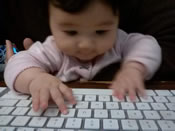 A few readers asked for a baby update, and the 6-month-old mark felt like a good time. At this point, she is kinda-sorta sleeping through the night, kinda-sorta eating solid food, kinda-sorta becoming mobile, and 100% awesome! When people ask me how I'm doing these days, I paraphrase a quote attributed to Tina Fey:
I've never been so tired. I've never been so happy.
Before I go any further, let me say that parenting is a guilt-ridden minefield of books and experts saying "you should ALWAYS do THIS and not THAT". But really, I feel like the longer I am a parent the less I judge others. What works for me may not work for you. What works for you may not work for me. Most of us are sleep-deprived and just trying to get through the day.
Baby gifts as risk-pooling. I haven't really written about frugality and parenthood, and I blame it all on my generous and fantastic set of family, friends, and co-workers. I have never received such a large quantity of gifts in a such a short period of time. This gifting custom turns out to be a very clever form of "baby cost risk-pooling". When a friend has a baby, you get them a gift, spaced out over decades. When you have a baby, 100 people give you a gift. We really didn't have to buy very many things on our own, and still have a huge pile of unopened clothing and toys to this day. (Also see baby registry review and follow-up.)
Formula & Breastfeeding. Mrs. MMB was very determined and motivated to exclusively breastfeed our child, and she succeeded. I emphasis her, because if it were up to me, we'd probably at least supplement with formula since waking up every 3 hours for months in a row would have broken me. Both of us were primarily formula babies. The hospital was helpful in giving us lactation consultations.
Recent healthcare law changes now require insurance plans to provide a free breast pump for every new child. I don't know about now, but this led to shortages in our area. We had to wait in line at a Target before it opened as if it was Black Friday, but half an hour later we walked out with a nearly $300 Medela pump for free. Pumping at work has been difficult at times, but with some effort she has obtained a private pumping area.

As a result, I really have no input on formula brands or related cost-saving tips. The formula companies did shower us with sample containers via baby fairs, our pediatrician, and the hospital. We still get coupons in the mail every week, as if to say "ready to give up yet??" From my limited research, formula can cost anywhere from $50 to $150 a month.
Diapers. Pre-birth, we were semi-motivated to use cloth diapers. My parents used cloth diapers, and so it wasn't weird or foreign to me. Besides, it was both cheaper and environmentally friendly, right? While we were still pondering old-school cloth vs. new-fangled hybrid-insert diapers, we had two baby showers (family and work) and thus two diaper cakes. Diaper cakes? Yes, a large cake made of disposable diapers. On top of that, we proceeded to get multiple mega-cases of Huggies and Pampers as gifts.
Imagine the baby formula samples, but worse. We were presented with hundreds of dollars of free diapers that we couldn't just ignore, so we used them. I'm afraid we may be addicted now. After trying out a few different brands – Huggies Snug & Dry, Huggies Little Snugglers, Pampers Swaddles, Pampers Baby Dry, Target Up & Up, our favorite so far is Huggies Little Snugglers with the pee indicator and the best fit. But we use whatever we have, and still have some free diapers left!
I suggest that if you want to go cloth, you should decide early and tell all your friends. In the beginning, you'll go through so many diapers and many of them will be barely wet so that cloth shouldn't be that much trouble. But once you transition to solid foods, the poop gets much bigger, stinkier, and… stickier, so that if you're not already used to cloth then it would be much harder to switch.
As for buying disposable diapers, we did buy a couple of packages from Amazon Mom which delivered them to our door without having to do a Costco run, all with free shipping and no sales tax in many states. (Amazon also owns the very similar Diapers.com now.) A good price for diapers is about 20 cents each.
Childcare. Probably the biggest potential baby expense is childcare, at roughly $1,000 and up per month for full-time daycare. We know folks who have done everything along the spectrum. One family hired a full-time live-in nanny from the Philippines (1:1 ratio). A couple of families did a nanny-share during the day (1 nanny: 2 kids ratio). Many use traditional daycare, which usually has a ratio of 1 caregiver:4 babies.
We wanted to avoid daycare at this age, partially because we didn't know of any caregivers we really trusted, and I think a 1:4 ratio makes it pretty tough for anyone to maintain a high level of infant care. Therefore, we did a combination of cutting back hours, working from home, and enlisting grandparents for part-time help. We have a big extended family, and even our nephews and nieces help out at times. This wasn't a financially-motivated decision as we would have easily made more money by just paying for daycare and maintaining full-time salaries. However, I fully acknowledge that this isn't possible for everyone. I love being able to spend so much time with my baby girl.
Furniture, Gear, Clothes, Toys. I'll save all gear-related reviews and recommendations for another post.
My overall advice for expectant parents is to do whatever research and action you can before the baby arrives. If you want to breastfeed, learn and read all you can about potential problems and issues. If you want to cloth diaper, take any classes and/or buy your supplies early to practice. Interview and research various daycare options now. When the baby comes, you'll be overwhelmed and too busy finding time to take a shower. Unless you're prepared, it will very difficult not to simply choose the easiest (and usually more expensive!) option.