David Bach has sold a lot of books under his "Finish Rich" and "Automatic" titles. Most of his books seem to be heavy on the inspirational talk and light on the specifics, but I think that's actually what has helped them sell so well – they are targeted for beginners.
Case in point, I wasn't very impressed his earlier book The Automatic Millionaire (review), but as a home-buying neophyte I found a lot of useful information in The Automatic Millionaire Homeowner. Sure, he recycles a lot of his "make it automatic" mantra when talking about saving up for a house down payment (set up automatic transfers to a online savings account) or setting up a bi-weekly mortgage repayment plan (set up automatic transfers with your lender), but you can pretty much just skip over those parts.
Besides all the automatic-talk, what this really provides is a brief overview of the home-buying process. Think of it as "Home Buying For Dummies", but even shorter. From finding a real estate agent, to finding the right loan, to finding the right home. The writing is clear and well-organized. It promotes long-term homeownership, and is not at all about flipping properties. However, if you've already gone through the process once, the book will probably bore you to death.
The main weakness in the book is that it focuses on the upsides of homeownership without fairly discussing all the potential downsides. It's very "rah-rah", you can almost imagine David Bach wearing a cheerleader's outfit complete with pom-poms: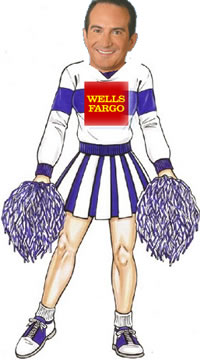 "I say BUY, you say HOUSE!" "GO REALTORS GO!"
(I added the Wells Fargo logo as he is sponsored by them.)
Conclusion
I would recommend this book for first-time home buyers, as it provides some helpful information. But, I would not recommend it as the only book to read, as it is doesn't address the pros and cons as fairly as possible.
Overall Rating:

[ratings explained]