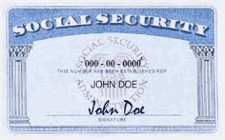 Although I'm still decades away from Social Security, I see a constant stream of articles about the "best" time to start taking benefits. Often, you are told to delay claiming until age 70, as you will receive a more valuable, inflation-adjusted, government-guaranteed payout for the rest of your life. But if you have a spouse, it may be better for one of them to claim as early as possible, at age 62. There are many calculators out there – here is one free tool for Optimal Social Security Claiming Strategy.
Apart from the theoretically optimal, when do people actually start taking Social Security? Here is a chart from this Morningstar article (which otherwise includes a lot of speculation):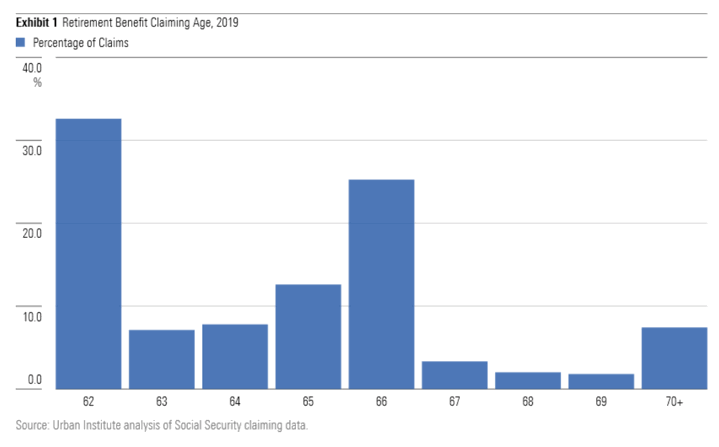 The three most popular times are:
Age 62: As early as possible. Many people feel that they have little choice but to ask for the money the moment it is available. Some have health issues which change the odds against waiting. Some just want the bird in the hand now. Finally, this may be the mathematically optimal strategy for one member of a couple. Together, this makes ASAP the most popular choice by far.
Age 66: "Full" retirement. Although there is nothing technically magical about the age 66, it is called "full retirement age" for people retiring in 2019. This is when you'll get "100%" of your "full" benefits, and anything less is called a "benefit reduction" and anything more is called an "benefit increase". I wonder if behavior would change if they changed their wording? They could, for example, also just call 62 the base age and call everything after that a benefit increase.
Age 70: As late as possible. In order to decline "free" money from the government for 8 years, you must believe in your odds of having an average/above-average life expectancy and have enough financial assets to pay for your expenses during the wait. Less than 10% of people go this route. Your reward is a monthly benefit that is 33% higher than claiming at age 66, and 76% more than claiming at age 62. This increased income will also increase with inflation each year, and inflation-adjusted annuities are only sold by a few insurance companies and are quite expensive.
This matches my anecdotal experience from family and friends. Most people don't consult a complicated calculator. They either take it as soon as they can for whatever reason, or they "follow the rules" and take it at the "full" retirement age. I'll probably cough up the money for a calculator when the time comes.