(Update: The 3/11 opportunity is no longer available. You can still sign up for an account and be alerted of the next opportunity roughly 48 hours prior. They seem to pop up every 3-6 months.)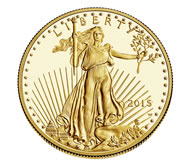 The US Mint regularly releases limited-edition coins to collectors. The coin sets are often limited to one per customer. PFS Buyers Club is a website broker that recruits regular folks to buy their allotted coin set with a set markup amount, with the agreement that they will sell only to PFS Buyers Club. For example, you might pay $300 for a coin and they'll agree to pay you $350 for it – a fixed profit of $50.
Note that the eventual value of the set may exceed that elsewhere – you may be able to get $400 for that coin on eBay, for example – but if you want to make that bet, don't promise to sell to PFS Buyers Club. Just buy it on your own and try to sell it yourself. Keep in mind that eBay fees can be quite high, and you'll be responsible for other costs like the proper shipping with adequate insurance. PFS Buyers Club will send you a prepaid mailing label (including insurance) and pay you via eCheck, paper check, or PayPal.
On Thursday March 11th (short notice, I know), there is a new guaranteed profit opportunity. The commission is larger than usual (up to $300 + credit card rewards), but so is the upfront cost (up to $6,500). I will be trying this out myself for the first time, especially as the high spending amount will also help me trigger some big credit card bonuses. PFS Buyers Club has a very solid reputation, but this way I can also write more honestly and in detail about the process.
The cost of the Four-Coin Set should be either $4,317.50 or $4,410.00 and the cost of the One Ounce Gold Eagle should be either $2,325.00 or $2,375.00. (The Mint will only be releasing the exact price for these products on Wednesday the 10th, and it will depend on the spot price of Gold over the next couple of days.)

Each item would need to be purchased as a separate Mint order, as such, each purchase will also have a $4.95 shipping charge. You will have each order shipped to your own house or office and then ship it to PFS Buyers Club with a prepaid shipping label that we will provide for you.

PFS will be offering a commission of $200.05 for each Four-Coin Set.

PFS will be offering a commission of $100.05 for each One Ounce Gold Eagle coin.

This is also a great opportunity to earn valuable points/miles on your credit cards, as well as meet any spending thresholds.
Spending $6,500 on your credit card would earn another $130 profit at 2% cash back. That's a total of $430. You could do even better if satisfying a credit card sign-up bonus hurdle. Here is the 4-coin set and the 1-ounce coin.
If you want to jump on this, you can sign up to join PFS Buyers Club here. I'll write a more detailed review afterward. If you use that link, I will receive a referral fee if you successfully sell your coin for a profit.