Last week, the average rate for a 30-year fixed-rate mortgage fell below 4% for the first time in recorded history. Why? The Federal Reserve and the US Government.
Check out this chart that breaks down the source of new mortgage originations for each year from 1990 to 2011. Blue is Federal Housing Authority (FHA) or Veteran's Administration (VA), Red is Government Sponsored Enterprises (GSEs) including Fannie Mae and Freddie Mac, and Green is Other, presumably private sector mortgages held by banks and credit unions.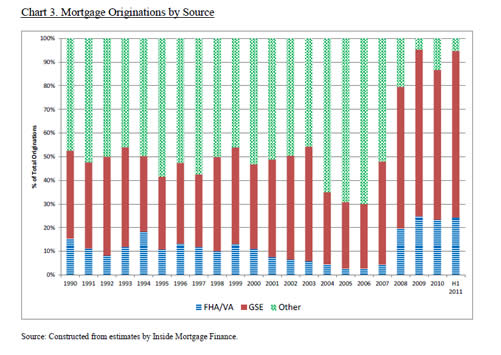 This is a fascinating and telling chart. In 1990 FHA/VA and GSE loans made up roughly 50 percent of all loan originations. This remained the story for the entire decade. The private sector got incredibly hungry with their toxic loans in 2004, 2005, 2006, and 2007. But look at 2008 up until today. For the last three full years, government backed loans made up over 90 percent of all loan originations.
Credit to Dr. Housing Bubble, found via AFM.