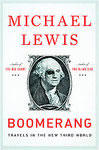 I've enjoyed every Michael Lewis book that I've read, from Liar's Poker to Moneyball to The Blind Side. Reading his writing is as easy as listening to a great storyteller, making the most mundane subjects interesting. I've been hearing about his new book Boomerang: Travels in the New Third World, and was surprised learn from Felix Salmon of Reuters that the book is simply a collection of previously written articles from Vanity Fair magazine. Articles that are still available, for free, online!
I looked inside a copy of the book, and it's true. Amazon reviews confirm it. The articles are the same, word for word. You can even read the only "new" thing, the Preface, online for free at Amazon since it's the "free first chapter". I don't feel bad sharing this, since Vanity Fair paid Lewis good money to write these articles, put them up publicly with ads, and no doubt enjoy the traffic. So if you want to read Boomerang electronically, the Table of Contents of the book is below. I used Instapaper on my iPod Touch and read parts of them while waiting at the doctor's office.
Preface: The Biggest Short – Amazon book page ("Read first chapter FREE")
I. Wall Street on the Tundra – Iceland (Partial only, but Archive.org has the entire article. Thanks to reader Travis.)
II. And They Invented Math – Greece
III. Ireland's Original Sin – Ireland
IV. The Secret Lives of Germans – Germany
V. Too Fat To Fly – California
Warning: Reading this book will make you some combination of scared, angry, and depressed. I've only read the Preface, Greece, and California chapters, and I'm already seriously thinking of buying some gold and guns to join my food hoard. I remind myself that Lewis is a gifted storyteller, but some people still disagree with they see as oversimplification and broad stereotyping of cultures. But just going by the hard numbers given, I'm still worried.
* Update: The Iceland article has been changed to only a partial stub at VanityFair.com, pushing you to buy the book "The Hangover" to read the rest. Interesting, the same article recycled in two separate books. The rest of the articles are still up, but I'd print to PDF or similar in case they change them as well. The Iceland article was free to read for years before this book came out, so it's still out there if you look hard enough. Update 2: A couple of astute readers found saved versions. I recommend visiting this Archive.org link and saving it quickly.