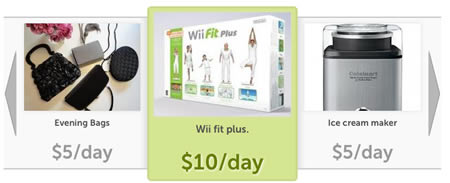 Recent articles in the New York Times and BusinessWeek magazine talked about the growing emergence of websites where individuals can rent out their belonging to other strangers, coining the new term "collaborative consumption". I like the idea. Not only can you make some extra money renting out your stuff when you aren't using it, but as a borrower that means you need to buy less stuff as well. In addition, people can use it as a "test-drive" to try out things like a certain model car or an iPad. Here's a list of websites in this area, please let me know any that I've missed.
RelayRides
Peer-to-peer car rentals! Rent your car to strangers by the hour. Started in Boston and now available in San Francisco Bay Area as well. Free to join, and renters start with $25 free driving credit. Prices are cheaper than competitors like ZipCar, which owns their own private fleet. Claims that owners can make $250 a month on average renting out their vehicles. Rates include gas and insurance.
Similar: Spride Share (currently in SF Bay Area), WhipCar (UK),
Airbnb
Rent out extra rooms in your house (or the entire house, a castle, or private island…). Free to sign up. Set your own prices and availability. Airbnb facilitates all bookings and financial transactions. They already have over 50,000 properties in 10,000 cities.
Similar: ParkatmyHouse (rent out driveway or garage space in crowded areas)
Zilok
Technically you can rent out anything on this site, but it has specific categories for cars, vacation sites, power tools, and event rentals. You can rent from businesses or individuals. Looks like a PS3 is going for $20-$25 a day.
Similar: SnapGoods (newer, but more polished website), Rentalic
Share Some Sugar
Can I borrow a cup of sugar? You can also rent out anything on this site, but SSS seems to promote borrowing between people in the same neighborhood for free (with a refundable security deposit). After browsing a bit, I realize that I could use a lawn aerator, if only there was someone nearby with one available.
Similar: ShareZen (more for collaborative ownership of a plane, home, or boat), Skyara (a marketplace for "experiences")
I suppose the main concern would be either theft or breakage of your property. Most sites have a user rating and feedback system similar to that of eBay, as well as security deposits. The car rental agencies do provide insurance, but I don't believe the other sites do. In many cases, you can restrict your lending to members of your social network of friends via sites like Facebook.
Of course, the hardest thing about these sites is often getting the critical mass of adequate inventory to rent out to interested customers. Let's hope one of these gains some traction. The one I want to use right now would be ParkatmyHouse. Combine their inventory with a real-time iPhone/Android app, and you could search for cheap parking almost anywhere. If you live where parking is scarce, you could profit from what is usually just a headache.