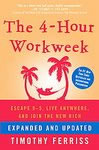 First published in 2008, The 4-Hour Workweek by Tim Ferriss is a book about "lifestyle design" and included many uncommon ideas about working and retirement. He describes how you can build a business and delegate/outsource nearly everything about it. He's ruthless (in a good way), from hiring virtual assistants from India to teaching you to avoid answering 99% of your incoming e-mails. Once you do that, then ideally you'll find yourself working mere hours a week. Who doesn't like the sound of that? 😉
Although not exactly a how-to manual if you're currently in a 9-5 job, it was definitely one of those inspiring reads that made you think. That was based on my reading of the original, but the 2009 "expanded and updated" edition supposedly has over 100 pages of new content. Perhaps time for another go.
If this interests you, you can currently download a digital PDF version for free. Supposedly to promote his new book The 4-Hour-Body (of which I know nothing about), he's now offering free digital versions of The 4-Hour Workweek and The Slow-Carb Cookbook, a companion book to the 4-Hour Body. I'm still not sure if this is fully intentional, but Ferriss is both tech-savvy and a crafty marketer so I can only assume it is. Instructions via SD:
Click here: http://short.e-junkie.com/4hourworkweek
Hit the 'Checkout' button.
Fill out the form with your name and email address, then hit the 'Complete Free Checkout' button.
On the final page, you'll have access to The 4HWW and Slow-Carb Cookbook.
Expires December 26, 2010. The e-mail doesn't to have to be "real", as the download links appear immediately on the next page. However, I did enter mine and received an alternative download link.