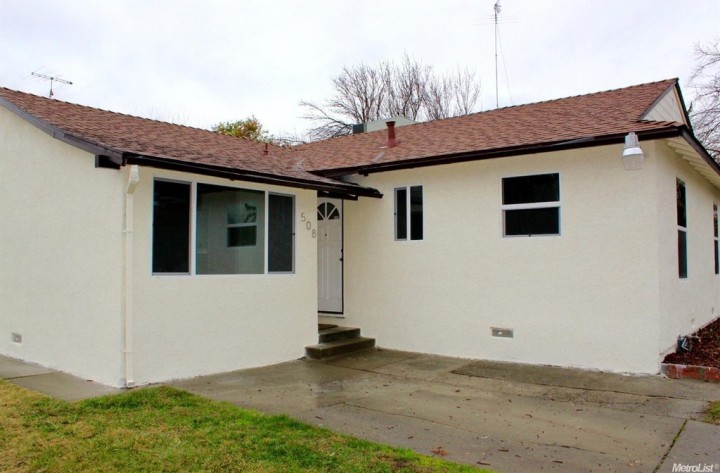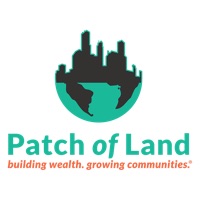 My first investment into real estate crowdfunding has completed. In April 2015, I invested $5,000 into a fix-and-flip loan at the site Patch of Land. There are more details in my initial update, but here's a quick recap of the loan details:
Single-family home in West Sacramento, California
Loan secured by property, in the first position. Backed by personal guarantee from borrower.
6-month expected term (roughly April 15th to October 15th). Fix-and-flip.
Loan-to-value is 75% per independent 3rd-party appraisal.
11% APR interest, paid monthly.
$5,000 invested.
Here are the initial and final numbers on the property itself:
Developer Purchase Price: $155,000
Estimated Remodel Costs: $55,000
Developer Contribution $31,000 + closing costs + origination fee
Developer Loan Request: $179,000
Independent 3rd-party After-Repair-Value: $238,000
LTV based on Independent ARV: 75%
Developer estimated selling price: $275,000 to $300,000
Actual selling price: $300,000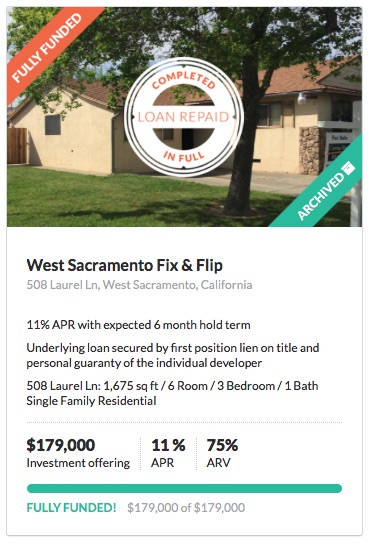 Here are the final numbers for my partial investment:
4/20/15 – $5,000 invested.
Proceeded to collect $45.83 of interest on the 15th of every month (pro-rated on partial months).
9/23/15. Loan extension granted.
Kept collecting $45.83 of interest on the 15th of every month (pro-rated on partial months).
3/15/16. Notified that house in under contract for $300,000.
3/30/16. Loan was paid in full.
The loan term was supposed to be for 6-months (one of the main reasons I chose it) but the process took longer than expected and the total loan period ended up being nearly 12 months. My total interest payments were $517.91. I also received an additional $75 fee for the loan extension. I thus received a total of $5592.91 over 346 days, for an annualized return of 12.5%. Without the extra $75 penalty fee, my interest payments would be right at the promised 11% APR.
Takeaways from the process:
Be patient but decisive when selecting your investment. You should be comfortable with the local market situation as well as the numbers like loan-to-value ratio. You should know what you want, ignore anything that doesn't fit your criteria, and act quickly when you see something that does. This is really the only part of the process where you have control, so use it wisely.
Understand the contract. Just because there is a "6-month expected term" doesn't mean you'll get your money back in 6 months. You should read the terms carefully to see what options are available to the borrower if they can't make that date. Is an extension automatically granted? Is there an increased interest rate? How long does the extension last?
Liquidity and more patience. One of the defining features of this type of investment is that it is highly illiquid. If I buy a mutual fund, I can sell the entire thing and get fair market value as cash in my bank account in a few business days. With an investment like this, the borrower could pay it back early, take their sweet time, or even default entirely and they'd have to liquidate the home before I get my principal back. That could take another several months. You should not need this money any time soon.
Low-maintenance. The good part of having no control is that you don't have to do anything. I just sat back and had the interest automatically swept to my bank account each month. I received a simply 1099-INT for the interest earned through this loan, and it was quite easy to deal with at tax time.
Updates. I did not receive constant updates on this loan, but I think the updates were adequate. I was given a couple of photos on the remodel progress and updates on loan extension, house listing, house listing changes, and house being under contract. You do not have any two-way contact with the developer.
I will admit that I was nervous for a little bit on this house. I could track the house listing on real estate sites like Zillow and I questioned some of the cosmetic choices that the developer made, including painting the house an gunmetal-grey stucco. I also questioned the high listing price of $325,000, which I thought they'd never get and would scare off potential buyers. It all ended well as the house was repainted into a neutral beige and the developer agreed to sell at a good price.
Will I invest again? Well, I can't help but be satisfied with my 12%+ annualized return, but things could also have dragged out a lot longer. I will probably invest again, but at a different real estate site, if only to see how they might handle things differently. I'm in it to make money, but I'm also in it to learn as this is my "experimental money" fund (even Burton Malkiel and Jack Bogle have such accounts).
Account screenshot: