A few days ago, the US Department of Commerce released1 that the nation's savings rate for 2006 was negative 1%. This means as a whole we spent more than we earned after-taxes, again. (It was also negative for 2005). Much is being made about how this is the lowest savings rate since the Great Depression, when there was a negative 1.5 percent rate in 1933. Should we be worried? Is the sky falling?
What's the recent trend?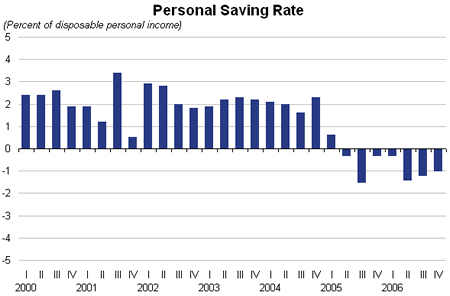 I wonder what the margin of error is on this data. Looking at this graph, it seems like perhaps something happened about a year and a half ago? But then I found it goes back a lot further than that. This chart starts from the 1960s2: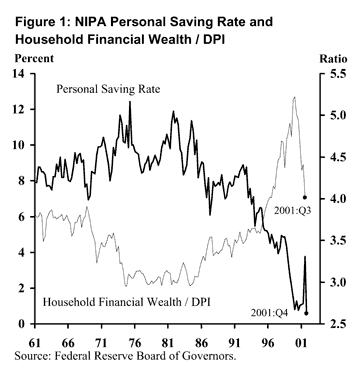 To help better understand the numbers, you have to go into the definitions a little bit. The personal savings rate ignores the capital gains in our investments like stocks and bonds, and also tangible assets like cars and real estate. In fact, our overall net worth is not doing that bad and actually increased over last year. The graph above tracks this by dividing household total wealth by disposable personal income (DPI). There are a few ways the experts try to explain this:

One theory is that this "wealth effect" makes us feel like we don't have to save as much right now. Look at the graph from 1990-2001… stock market go up, savings go down. I can see this – recently both the stock market and housing prices have been flying high simultaneously. If your overall balances are skyrocketing, it's much easier to justify buying that new car or trading up into a bigger house. Maybe people just need a good scare. Or a sudden drop in spending would lead us into a depression. Sigh.
The problem with this data is that it doesn't separate out the very rich and the poor, and thus really reflect how the majority of people are doing. Even though the net worth numbers make things look better, the top 20% of households by wealth have 15 times the net worth of the median household. The top 20% by income make 50% of the total income. Only half of Americans even own stock, let alone have capital gains to worry about. What would happen to these charts if you took out the top 20% richest people? Are the big earners also the big spenders? Or are the lower 80% of people both spending too much and not seeing any gains in net worth? I'm curious.
Another theory is that all of this easy credit is letting people borrow from their home equity or future earnings with a click of a mouse or the swipe of a card. Our debt-to-income ratio is certainly on the rise3: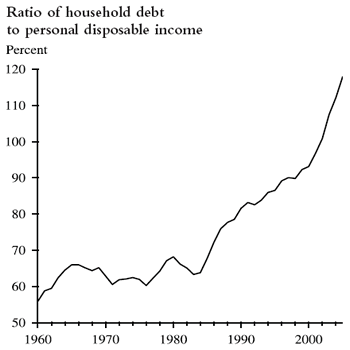 Perhaps the government should be a better fiscal role model! 🙂 Maybe we just need to adjust our standards. The size of the average house has doubled since the 1950s, while family size has actually shrunk. Mainly, I just get the feeling that a lot of people are going to be working for much longer than they think they are…
Sources:
1Bureau of Economic Analysis, Personal Income and Outlays 12/06
2Federal Reserve Bank: What?s Behind the Low U.S. Personal Saving Rate?
3Federal Reserve Bank: Spendthrift Nation