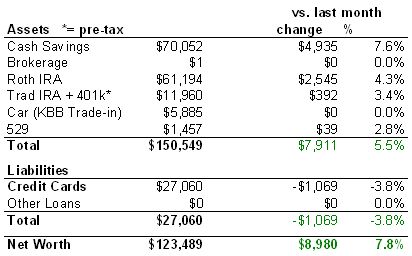 About My Credit Card Debt
Newer readers may be alarmed by my high levels of credit card debt. In short, I'm borrowing money for free and keeping it in safe investments while earning me interest. Along with other things, this helps me earn extra side income of thousands of dollars a year. Recently I put up a detailed series of posts on this 0% game. So please, don't worry!
Summary
While we are still recovering from the hit when we converted our Traditional IRA to a Roth IRA, this month was one of our strongest yet. First, the stock market continued upwards and our portfolio followed passively. Second, my wife got a healthy bonus from her job in January. Third, I renewed some advertising contracts on this site. Fourth, we had less unexpected expenses stemming from personal events than in previous months.
We are now at $42,992 in net cash and $50,335 in total non-retirement assets. Our mid-term goal of $100,000 for a house-downpayment is still in reach, especially with recent developments… The job search is going well and it looks like one of us (hint: not me) will be getting a big raise soon. This has been in the works actually for a while, but we had a few worried moments here and there. Now all the pressure is on me!
You can see all my previous net worth updates here.