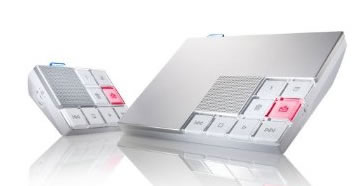 You may recall that I recently bought an Ooma VoIP Telephone system since it offers me unlimited phone service for an upfront price of about $200. Porting your landline phone number over to Ooma costs $40, but can be worth it for some folks. (It's also free with a 1-year $99 subscription to Ooma Premier service, which includes a second phone number.)
Although Ooma warns that it can take up to 4-6 weeks, the results are highly dependent on your local telephone company. I thought I would share the timeline of a friend's successful port which took 19 days.
Day 1 – Filled out port request online.
Day 3 – Faxed/e-mailed in required paperwork, which required some signatures and a copy of recent phone bill.
Day 9 – Received the following e-mail from Ooma. Emphasis is mine.
You've recently requested your phone number to be ported to ooma. We have submitted all of the information you provided to your current Carrier and are still awaiting confirmation. We will notify you via email once we have confirmation of the actual completion date.

Please keep in mind that if you have DSL on the same number that you requested to port, you will lose your internet connection when your number is ported. ooma will not work without a broadband connection, so this is a friendly reminder to insure you do not experience down time.
Day 12 – Another e-mail from Ooma.
You've recently requested your phone number to be ported to Ooma. The expected completion date of your request is scheduled for 12/29/09 [Day 19].
Day 19 – Final e-mail from Ooma.
Thank you for placing your order with ooma, your porting request has been completed. Please reboot your ooma hub so your account will be updated with this number. You may also contact your local carrier to cancel your account with them.
As promised, on Day 19, the regular landline phone went dead. If you called it, it said "This number is no longer in service." But after rebooting the Ooma unit, all calls were immediately picked up by the new Ooma line. After calling the telephone company to cancel, they said that everything was already terminated and that the final bill would come in shortly. I guess since the number was already gone, they had no reason to try and convince me to stay.
In general, I think Ooma did a very good job of providing regular updates during the process. The overall process was as smooth as could be expected, with the worst part being that it still took 3 weeks total.