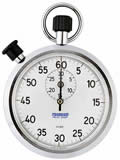 It's Friday, so here's an easy slam dunk resolution involving emergency funds. If you've done any sort of financial reading lately, you know that many folks recommend having at least 3-6 months of living expenses put aside. Given the current high unemployment rates, I personally wasn't comfortable until I had 12 months of expenses. Not only could you lose your job, but there could be unexpected health expenses, car repairs, or whatever. But that's not the main point here.
The easiest way to build your emergency fund is to put it on auto-pilot. Your task for today is to schedule an automatic, repeating monthly transfer of $100 into a savings account.
Just about every savings account available allows you to set up an automatic monthly transfer from your checking account. Here is how to do it with Capital One 360's Automatic Savings Plan. I just chose $100 as a round number, but change it as you like.
(Perhaps you've already got a healthy emergency fund. If so, then you can apply this resolution to another specific savings goal, like a new car fund or in our case a pet healthcare fund to replace costly pet insurance.)
Instead of telling you more reasons to do it, I'm going to try to counter any reasons NOT to do it.
Don't wait until tomorrow. It won't get any easier later on, only harder.
Don't open up a new account, if you already have one available. If you don't, one of the fastest applications I've seen online is at Capital One Consumer Bank. Takes less than five minutes.
Don't worry about interest rates. It doesn't matter if your savings account doesn't earn as much interest as some of the top accounts. This can all be changed later.
Don't worry about not being able to keep it up. Start with as much or as little as you feel comfortable. It doesn't matter if it's $100 or $1,000. I don't even care if it's $10.
The hardest part is starting. You can always change your mind later, it's still your money. But hopefully, in several months you'll wake up to a big chunk of money you didn't even realize you saved.
See the rest of my 2010 Instant New Year's Resolutions here!