Update September 2022: The ONE app feature set has been changed. They now offer only up to 1% APY on all balances and pockets. As such, this app no longer offers a competitive savings interest rate and I no longer use it. I will leave the original review up for context as to why I used to talk about it, but please consider it outdated.
Expired review: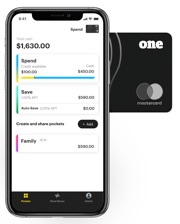 One Finance is an app that USED TO offer up to 3% APY on select balances and replaces overdraft fees with a line-of-credit. Thanks to reader Matt for the tip. FDIC insurance is provided by their partner bank, Coastal Community Bank.
Let's cut straight to what earns the 3% APY in their "Auto-Save Pocket":
Paycheck Auto-Save. Add your paycheck direct deposit and contribute up to 10% of each paycheck. Up to $1,000/month.
Debit card automated round-ups. Round up every One card purchase to the next dollar and deposit the difference.
If you have any sort of Direct Deposit, you can earn 1% APY on up to another $25,000 ("Save Pocket"). If you don't have Direct Deposit, you earn 1% APY on up to $5,000.
This structure is rather clever, as it directly incentives real-world savings while inherently limiting the balance on which they pay 3% APY. Even if you made 100 debit card purchases a month, you'd only average $50 a month in savings via roundups. Most people would also have to move over their entire direct deposit to take full advantage of the paycheck deferral portion. It would take $10,000 in monthly direct deposits to max it out.
(There is also no cash back or round-up matching on those debit card purchases, so you'd be giving up potentially valuable cashback/points/miles rewards to get that 3% APY. I'd prefer the 2% cash back, personally.)
Another somewhat unique feature is the no-fee line-of-credit for overdraft protection (charges 12% APY). There is no interest at all if you repay any negative balance by the end of the same month. Even at 12% APY, this can be a lot less painful than a $35 flat fee if you only overdraft by a few dollars for a few days. For example, overdrafting by $500 for a week would cost nothing if you went back up by the end of the month, or about $1.15 if you didn't. I'm guessing that most other big banks don't do this because charging those $35 fees is much more profitable.
Additional features.
No monthly fees, no minimum balances.
Fee-free access to Allpoint ATM network.
Free debit Mastercard.
Person-to-person payment system.
Finally, they promise "World-Class Live Customer Service". That is a bold claim coming from a crowd of startups trying to get by with the bare minimum of customer service *cough* Robinhood *cough*. It's truly refreshing whenever I speak to a knowledgeable, caring customer service rep these days. I hope they pull it off, a la Zappos.