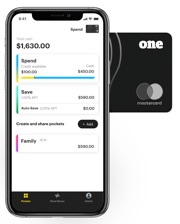 Updated with $50 bonus. There seems to be a new fintech app every day, but that's also where higher interest rates on FDIC-insured funds still live (after doing your due diligence). I'm genuinely curious to see what each one comes up as a differentiator. One Finance offers up to 3% APY on select balances and replaces overdraft fees with a line-of-credit. Thanks to reader Matt for the tip. New sign-ups can earn a $50 bonus via referral link (that's mine) after first qualifying direct deposit of $250 or more. FDIC insurance is provided by their partner bank, Coastal Community Bank.
Let's cut straight to what earns the 3% APY in their "Auto-Save Pocket":
Paycheck Auto-Save. Add your paycheck direct deposit and contribute up to 10% of each paycheck. Up to $1,000/month.
Debit card automated round-ups. Round up every One card purchase to the next dollar and deposit the difference.
If you have any sort of Direct Deposit, you can earn 1% APY on up to another $25,000 ("Save Pocket"). If you don't have Direct Deposit, you earn 1% APY on up to $5,000.
This structure is rather clever, as it directly incentives real-world savings while inherently limiting the balance on which they pay 3% APY. Even if you made 100 debit card purchases a month, you'd only average $50 a month in savings via roundups. Most people would also have to move over their entire direct deposit to take full advantage of the paycheck deferral portion. It would take $10,000 in monthly direct deposits to max it out.
(There is also no cash back or round-up matching on those debit card purchases, so you'd be giving up potentially valuable cashback/points/miles rewards to get that 3% APY. I'd prefer the 2% cash back, personally.)
Another somewhat unique feature is the no-fee line-of-credit for overdraft protection (charges 12% APY). There is no interest at all if you repay any negative balance by the end of the same month. Even at 12% APY, this can be a lot less painful than a $35 flat fee if you only overdraft by a few dollars for a few days. For example, overdrafting by $500 for a week would cost nothing if you went back up by the end of the month, or about $1.15 if you didn't. I'm guessing that most other big banks don't do this because charging those $35 fees is much more profitable.
Additional features.
No monthly fees, no minimum balances.
Fee-free access to Allpoint ATM network.
Free debit Mastercard.
Person-to-person payment system.
Finally, they promise "World-Class Live Customer Service". That is a bold claim coming from a crowd of startups trying to get by with the bare minimum of customer service *cough* Robinhood *cough*. It's truly refreshing whenever I speak to a knowledgeable, caring customer service rep these days. I hope they pull it off, a la Zappos.
If you have the ability to move over some direct deposit and save part of it, you should compare with the structure of HM Bradley. It's easier to earn 3% APY on a big balance with HM Bradley (and with a smaller direct deposit), but it may be harder to maintain the top rate over the long run as you can't take out net money without hurting your savings rate. One Finance appears better at encouraging steady savings over the long-run, even if your spending varies. Their higher interest rates may also be more sustainable as a result.
Bottom line. One Finance is a new fintech app that offers up to 3% APY that incentivizes savings from your paycheck and rounding up your debit card purchases. This might be a good fit for people that want a simple, high-interest savings system.