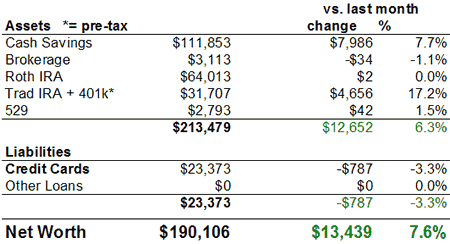 About My Credit Card Debt
If you're a newer reader, you may have some concerns about my high levels of credit card debt. I'm actually borrowing money for free at 0% interest, putting it in high yield savings accounts that earn me 5% interest or more, and keeping the difference as profit. Along with other things, this helps me earn extra side income of thousands of dollars a year. Recently I put up a series of step-by-step posts on how I do this. Please check it out first if you have any questions. This is why, although I have the ability to pay the balances off, I choose not to.
Also mixed in are our monthly credit card charges, which we do pay off each month.
Commentary
Cash Savings. We continue to have a big cash hoard to try and reach our mid-term goal of $100,000 to put towards a house downpayment in an expensive area of the country. We are now at $94,386 in non-retirement funds (cash + brokerage + 529 – credit cards). Getting close! We continue to browse for that perfect home that fits us, and we're starting to learn more about the ins and outs of mortgages.
Retirement and Brokerage accounts. Performance-wise, there seems to have been little movement over the last month. The increase in value is primarily due to my wife starting to contribute to her new 403b, which is finally set up properly. We hiked up the percentages in order to try and build up some pre-tax contributions before the end of 2007. Still have to decide whether to contribute to a Non-deductible IRA this year. Finally, I'll be finishing up my series on rebuilding our portfolio this week.
That's it for this month. As always, we're not racing against anyone else but ourselves. Take a peek back at our previous net worth updates here.