Last time I did a really simplified overview of Modern Portfolio Theory. Much of the credit for this is due to a fellow name Harry Markowitz, who figured out that if you combine two assets with the same return that aren't perfectly correlated, this diversification can result in reduced risk without reducing return. Even if you don't combine two assets with the same return, combining two assets that have low correlations (don't move together) will get you a better reward/risk ratio. Markowitz later won a Nobel Prize for his work in this area.
Stocks vs. Bonds
Studies have shown that somewhere between 77% and 94% of the variability in portfolio returns are determined by asset allocation. So our goal is to use asset classes with low correlation to get the best reward/risk ratio. One of the most popular examples of assets that have low correlation is stocks and bonds. Accordingly, adjusting your ratio between stocks and bonds is one of the most basic ways to adjust the amount of risk you wish to take in a portfolio.
The chart below shows the risk/return trade-off between bonds and stocks for 1980-2004. The stock portfolio is represented by the S&P 500 index, while the bond portfolio contains 60% five-year Treasury notes and 40% long-term Treasury bonds. The portfolios range from 100% bonds, to 95% bonds/5% stocks, 90% bonds/10% stocks, all the way to 100% stocks. (via this AAII article)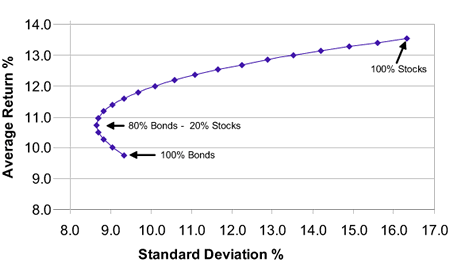 It's interesting to note that being 40% stocks/60% bonds actually ends up with the same level of risk, but almost 2% more in average annual return. I think this is a big part of why you won't see many model portfolios with more than 60% bonds. Also, I would note that as you get near 100% stocks, the slope of the curve gets flatter and you start taking on more risk without getting as much higher return.
How Much Risk Should You Take?
Now, actually deciding on how much risk you need to take is very difficult. You need to be able to keep your asset allocation in both good years and bad years, so in on one side you have to measure how much risk you can take – risk tolerance. On the other side, there is a certain amount of risk you need to take in order to outrun inflation and reach your investment goals. Finally, you have to take into account that risk also decreases over time: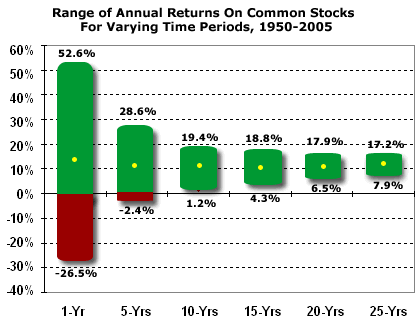 You can see here why stocks are considered a good long-term investment, but a horrible short-term investment. This chart shows that for any 25-year period within 1950-2005, the very worst you would have done was +7.9% annually while the best was +17.2%. However, for a 1-year time horizon, the possible returns vary wildly.
One way that people try to determine risk tolerance is via risk questionnaires. Personally, I hate them. They only measure how we think we should act, not how we actually will act. I also don't like charts that say "If you have 80% stocks, be prepared for a 30% drop. If you have 90%, be prepared for a 35% drop". Really, am I supposed to see a difference between losing 35% or 30%? Both would make me sad. Really, what I want is a set plan to follow that automatically decreases risk gradually over the proper time periods. That takes emotion out of the pictures, and will help keep me on track.
Some Possible Guidelines
An old rule of thumb is that your stock allocation percentage should be 100 minus your age (this is the same as "own your age in bonds"). More recently, others have altered this to a more aggressive "110 – age" or even "120 – age".
What about all those Target Date Retirement Funds? Their whole purpose is to decide an asset allocation that works for as many people as possible based on their retirement date. If I assume that people retire at 65 years old, here is what the asset allocation versus age looks like for three of the more popular fund families: Vanguard, Fidelity, and T. Rowe Price (via a previous post):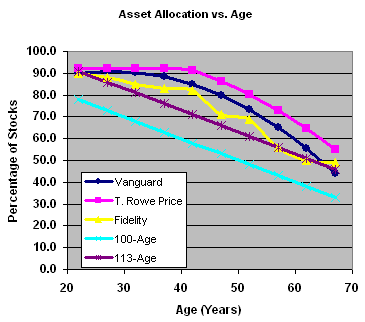 If you force a linear fits for all three fund families, it would correspond roughly to stock percentage of 119 – age. However, they don't really adjust linearly with time. If I use a 2nd order curve fit instead, I can make a little tool that estimates their stock percentages for any age:
My Decision
In the end, I haven't found any precise analytical way to make this decision. Some people view anything higher than 80% stocks as unnecessarily high, and mainly a byproduct of performance-chasing due to high stock returns over the last 20 years or so. I don't know about that, but I do believe as a whole people greatly overestimate their risk tolerance.
Right now I have 90% Stocks/10% Bonds at age 29, which is about 120-age. I chose this partially because like the idea of being 100% in stocks at age 20, and going from there. But to be honest, I don't feel like I need to take quite as much risk now as I used to. I think I can save enough that I don't need the trade-off of a little bit more expected return for a little bit more stomach churning. So I am going to shift 5% more conservatively, and follow a 115-Age plan. So 86% Stocks/14% Bonds is where I'd like to be at. But that's just me.
Read more: Index of Posts On Building My Portfolio