The IRS recently released the data from 2005 tax returns. Kiplinger has an article How Do You Rank as a Taxpayer? which digs into this new information:
New data show that an income of $30,881 or more puts you in the top half of the class. Earning about twice that much — $62,068 — earns you a spot among the top 25% of all wage earners. You crack the elite top 10% if you earn more than $103,912… And $364,657 buys top bragging rights: Earn that much or more and you're among the top 1% of all American earners.
Keep in mind this is actually adjusted gross income (AGI), which adds in investment income but leaves out pre-tax 401k contributions. The data doesn't distinguish between single and joint returns either, and payroll taxes are also not taken into account.
Still, the chart below does an interesting comparison of the percentage of all income with the percentage of taxes paid. The top 1% earn 21% of all income and pay 39% of all taxes. The bottom 50% earn 13% of all income, but pay only 3% of all taxes.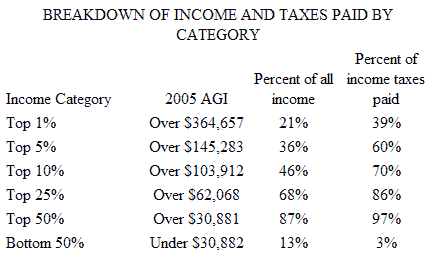 These stats are interesting but not really surprising given our progressive tax system. Maybe being in the top 1% isn't all that great… nah. 😉