I don't know if this is the proper next step, but after deciding on a stock/bond ratio for myself, I want to think about the specific breakdown of stocks (equity). As mentioned when talking about investing in total markets, you could simply "own the world" using just two funds or ETFs and weighting them according to market capitalization – using one Total US fund and one All-World Except-US fund: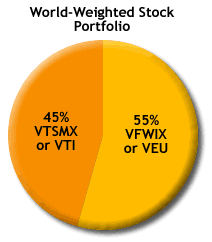 If you use the ETFs, the total weighted expense ratio would be a mere 0.17% annually!
Concerns About Investing Abroad
However, according to various surveys the average US investor has much less than 55% of their equity portfolio in international stocks. Here are a few reasons that have been cited:
Country/political risk – This includes the possibility that the economy of certain countries could collapse due to war or other internal strife. Also many governments have less oversight and transparency than the US and other developed countries.
Currency risk – These days it seems like people want to hedge against a falling dollar, but only recently people were worried about a strengthening dollar affecting international investments. Either way, it does add an element of risk.
Added cost – Investing in international mutual funds usually cost more in management fees.
Existing exposure – Some statistics show that a very large chunk of revenue from US-based companies now come from outside our borders, so even without adding international companies we are already being exposed to many of the same effects. This also explains the recently increasing correlation between domestic and international stocks.
Performance-chasing – Recently international funds have been on a very good run. Some believe this is the main factor in increasing foreign exposures, as opposed to fundamental factors.
Historical Risk/Reward Relationship – Benefits of Diversification
On a very general level, the reason to invest in international stocks as it pertains to Modern Portfolio Theory is that you get a diversification benefit. Historically, international stocks in general have had higher average returns, but also higher risk (volatility). But due to low-ish correlation, mixing domestic and international stocks has resulted in less risk and greater return.

Below is a chart taken from the book A Random Walk Down Wall Street. It maps the risk/return for portfolios that range from 100% US stocks to 100% EAFA (Developed countries) for the period January 1970 to June 2006: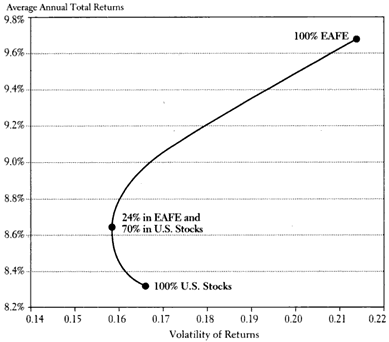 As you can see, with 24% EAFA and 76% US, you can achieve higher return with less risk. (70% is a typo.) Even if you go with more international, you can reach a point where you get the same risk as with a 100% US portfolio, but higher return (as much as 45%-ish?). As always, this is based on the past and is not guaranteed to persist. But again, all we have is history – here we are talking 35 years.
Okay, So How Much Is Best?
Shrug. So far we have sort of defined a range from ~25% to about 55% international. One helpful paper is presented by Vanguard Research – International Equity: Considerations and Recommendations. It's a good read, but here is the conclusion:
In light of quantitative analysis and qualitative considerations, we have demonstrated that domestic investors should allocate part of their portfolios to international securities and that a 20% allocation is a reasonable starting point. While adding an allocation of 20% to 40% has historically been beneficial, adding too much can increase portfolio risks without the commensurate benefits. Finance theory dictates that an upper limit should be based on the global market capitalization for international equities (currently approximately 50%). However, we have demonstrated that international allocations exceeding 40% benefit a portfolio incrementally less, particularly as costs are accounted for. Although no absolute answer exists for all investors, it should be clear that an allocation range of 20% to 40% is reasonable given the historical benefits of diversification. Allocations closer to 40% may be suitable for those investors less concerned with the potential risks and higher costs of international equities. Allocations closer to 20% may be viewed as offering a greater balance among the benefits of diversification, the risks of currency volatility and higher correlations, investor preferences, and costs.
What Do The Target Retirement Funds Say?
Again, we refer to the popular all-in-one funds by Vanguard, Fidelity, and T. Rowe Price. Let's just take their 2045 funds and dissect them using Morningstar X-ray: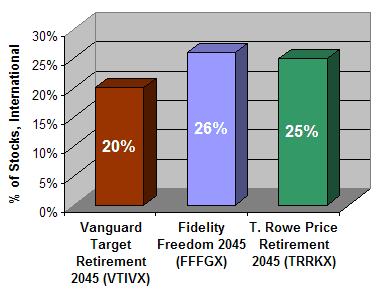 Hmm… 20-26%.
My Decision
I feel that going forward, both US stocks will be more influenced by outside countries, and international companies will be influenced by the US. They will all fight it out. Maybe the US won't be the dominant world power anymore. In that way, I like the idea of investing in a world-cap weighted portfolio. However, the fact remains that I will most likely be retiring in the US and be spending US dollars. So there should be a slight home bias. Fortunately, this is also supported by the historical risk/return characteristics. Finally, international investing does cost more, although the difference is shrinking.
To be honest, this is where I am having a hard time making a decision. I am hovering between 30%-40%, and leaning towards 40% foreign. What do you think?
Read more: Index of Posts On Building My Portfolio