It had to happen eventually… WaMu appears to have lowered the interest rate on their online savings account from 5.0% to 4.75% APY: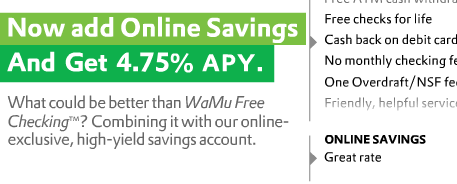 This brings them back in line with other online savings accounts, but I still enjoy having a local bank as the core of my bank account setup and being able to do things like deposit my paper checks directly into my savings account (to a real human!). More details about the actual perks in my review of this WaMu Checking/Savings combo.
My cash savings are now earning less, but mortgage rates are still rising. Bah humbug!