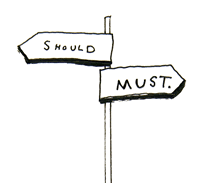 If you struggle with your inner compass at times like I do, definitely read this thought-provoking and inspiring article The Crossroads of Should and Must by Elle Luna:
Should is how others want us to show up in the world — how we're supposed to think, what we ought to say, what we should or shouldn't do. It's the vast array of expectations that others layer upon us. When we choose Should the journey is smooth, the risk is small.

Must is who we are, what we believe, and what we do when we are alone with our truest, most authentic self. It's our instincts, our cravings and longings, the things and places and ideas we burn for, the intuition that swells up from somewhere deep inside of us.
When reading biographies and interviews of notable people, those who made seemingly bold decisions often remark that it really wasn't. They just did it. It was a Must. I always wonder if it was also scary for them.
Looking back, I wonder if my own moves were by choice or not. Did I choose to quit my stable job with the bi-weekly paycheck and instead go back to school while supporting myself with online projects? Was I scared? Probably. Did I have any other choice? I only remember that I couldn't do the job anymore.
Whenever I start feeling like others are controlling my destiny instead of me, I start to panic and plan my escape. I believe this fear of losing control is why I like to hoard money. Money gives you time to work towards a Must:
Money can be a bridge to the freedom of exploring Musts. And it often doesn't require much. But it does require determination. Money can be used to buy you a day, a week, month of time to work on a Must, which may amount to nothing. Or it can be used to buy a sweater, a suit, a car — the value of which is obvious and low risk.
The article speaks of aligning your everyday actions to your dreams. Your job should be your calling. An artist. A tech start-up. A food truck.
That is a worthwhile goal and while it is important for me to like what I do each day (which I do), I feel differently. Not needing money from a job at all and having absolute freedom to do whatever I want (paid or not), that is what I crave. That is what I think about in the shower. Achieving financial freedom is my Must.